Vern Cotter eyes World Cup push with Scotland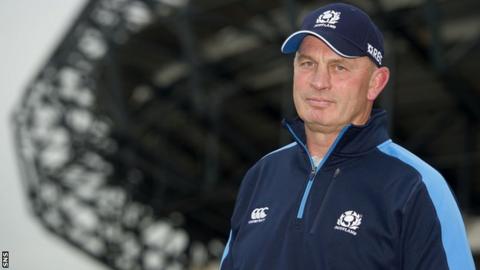 Vern Cotter thinks he can make Scotland a force to be reckoned with at the World Cup, despite only having a year to work with the squad full-time.
Cotter is to take over team affairs in June 2014 when his contract as Clermont Auvergne head coach expires.
"If you don't enter the competition with the idea of winning it, there's no point entering," he told BBC Scotland.
"The players will be very excited about moving towards that. We'll be giving everything to get out and compete."
Scottish Rugby included securing a Six Nations Grand Slam and winning the World Cup in their four-year strategic plan, causing some surprise.
But New Zealander Cotter believes his future employers are right to aim high.
"I think it's a great objective," he said.
"A Scotland v All Blacks final - why not? You've got to be positive about whatever you do and it's a positive attitude that will develop the team.
"We will want to win every game we play and we'll be doing our best."
Cotter took charge of Clermont in 2006, and won the French title in 2010, while this season ended in a narrow Heineken Cup final defeat.
In the wake of that disappointment, and reacting to newspaper quotes attributed to Cotter, Clermont president Rene Fontes released a statement suggesting the coach was planning to offer his resignation.
When made aware of Fontes' remarks, Cotter replied: "No, I haven't resigned. I would like a little bit of clarity and I will be ringing my president to see what the situation is.
"Apparently there has been a reaction to an article I gave stating my honest appraisal of how the club should move forward.
"I'm surprised because we had agreed to move forward to 2014, so I will obviously be asking a few questions."
Meanwhile, the 51-year-old is confident that he can establish a good relationship with Scott Johnson, who will continue as Scotland's interim coach before taking up a director of rugby role on Cotter's arrival at Murrayfield.
"I will be in contact, the project is World Cup 2015. The international window lets me contact Johnno.
"The planning will be in place and when I get here in June [2014], we'll get straight into it.
"My first job is to seek to understand before I'm understood, so I've got to do a lot of observing. There is a culture I need to get a hold of before I start putting anything in place.
"Talking to the people involved with Scottish Rugby gave me the confidence that this was an ambitious place, a good place to be.
"Everything added up, so it was an easy decision."
Describing himself as a "simple kind of guy", Cotter added: "I don't take myself seriously but I take my job seriously.
"I spend a long time focusing on one thing and that's the game and how players can improve and how I can help them."
Scottish Rugby chief executive Mark Dodson is not planning to offer Clermont a compensation package to lure Cotter to Edinburgh earlier than planned.
"We'd love to have him tomorrow but when you want the best in the world sometimes you have to wait," he told BBC Scotland.
"It's more of a danger to go with someone that doesn't work out.
"We know Vern will make a massive difference to Scottish rugby.
"We respected Clermont's wishes. We did not publicise the appointment before the two most important games of their season and we respect that they have a year left on his contract.
"If they want to release him early we'd be delighted but we're not planning on that."