Dylan Hartley to miss Lions tour after accepting ban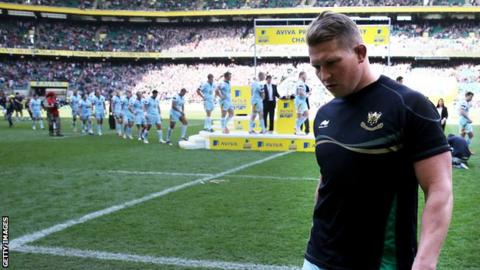 Dylan Hartley will not appeal against his 11-week ban - a decision that rules him out of the British and Irish Lions tour to Australia.
Hartley was suspended after being found guilty of verbally abusing referee Wayne Barnes in the Premiership final.
The England hooker, 27, was shown a red card in Northampton's defeat by Leicester on 25 May.
Ulster's Rory Best has been called into the 37-man Lions squad as Hartley's replacement.
Northampton told BBC Sport that Hartley has decided against appealing the RFU's decision.
Saints' captain was sent off in his side's 37-17 loss to Leicester for swearing at Barnes and calling him a "cheat" after a penalty decision went against his team.
Hartley claimed he was talking to opposing hooker Tom Youngs but a RFU disciplinary hearing did not accept his explanation.
It said: "The referee had no doubt that the words were directed at him.
"There is no reason why the referee should make this up, and we accept that he would have given the player the benefit of any doubt.
"He was close enough to know what was said and what was meant."
The RFU also felt Hartley had changed his version of events when he attended the hearing.
It said: "We believe that he quickly regretted what he had done and that as soon as he left the field of play he told his team management that he had directed the comments to Tom Youngs, who was on the ground after the scrum had collapsed.
"We observed that this account changed subtly, no doubt after he had examined the DVD footage showing that his eyes were not looking downwards.
"The version provided to the panel was that he had spoken to Soane Tonga'uiha, who was between him and the referee, about Tom Youngs and then looked down at Youngs.
"In our view this is not a credible explanation."
Hartley will be free to play again on 1 September 2013.