Jeremy Guscott Q&A: Jonny Wilkinson, Toulon and the Lions

By Jeremy Guscott
Former England and Lions centre
Last updated on .From the section Rugby Union208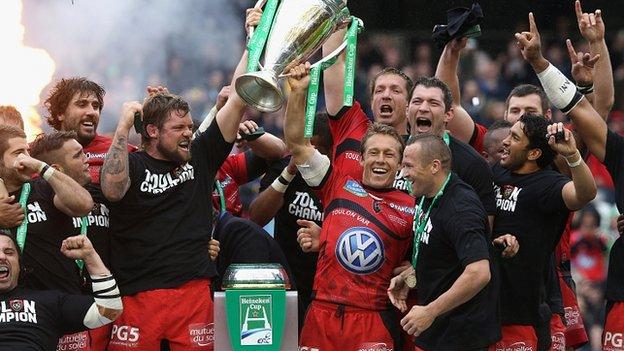 Among the topics Jerry discusses this week are:
- Toulon winning the Heineken Cup final
- Brian O'Driscoll's decision to carry on playing
- Ronan O'Gara's retirement
- Quade Cooper's exclusion from Australia's squad for the Lions
Jerry answers questions posted on the website at the start of every week - entries are now closed for this Q&A. This week's answers appear below.
Caycer: Do you think Jonny Wilkinson is a better player now than when he helped England to the World Cup?
Hi Caycer, Jonny plays differently now compared to when he was part of the Rugby World Cup-winning side. His defence isn't as ferocious as it once was, but he understands the game better because of the further experience he has gained.
Rugby Guru: A lot has been said about Jonny Wilkinson's limitations as a fly-half and will he/won't he/should he tour, but who would you had rather had played with as a player, Wilkinson or Jonny Sexton?
Hi Rugby Guru, Sexton would have made my life easier because he can attack through his running whereas Wilkinson hasn't been much of a threat over the years in that department. A running fly-half can create more space for his backline because he himself interests defenders. Wilkinson doesn't miss many kicks and wins game because of that special talent. For my enjoyment, I would prefer to play with Sexton; however to win games I'd probably opt for Wilkinson.
Tomcurran: A lot of the press seem to have suggested it was a travesty for Clermont to have lost the Heineken Cup final when they were the better side, but isn't that a bit harsh on Toulon? Finals aren't won by accident, and Toulon's organisation, commitment and composure were all impressive and ultimately superior to the Clermont side. Finals must be won, and Clermont didn't do enough at the end. For me, a deserved win.
Hi Tomcurran, I agree with you. Clermont could have exited their half before they got turned over and Delon Armitage got the ball from Lobbe to score the vital try. Clermont had the talent to win but not the heads to finish the job in the end.
Daniel Grimsey: What do you think of Delon Armitage's wave to Brock James in the Heineken Cup final as he ran in to score Toulon's try? Do you think it is just friendly banter or is it too arrogant and unprofessional?
Hi Daniel, personally I never did anything like that to defenders trying to stop me from scoring. I don't believe it's sportsmanlike. It didn't appear to be banter and I've not read or heard Armitage's account of why he did what he did. That would be interesting to hear.
Joelyons: Do you think Brian O'Driscoll's decision to play for another year is being made by his heart rather than his head? I'm a Leinster fan and have mixed emotions. I feel that this could be a line to far for the Great One. Some players go on a few seasons past their best and I would hate to see BOD fall in to the category. The Lions would be a fitting place to sign off any career. What are your thoughts?
Hi Joelyons, I believe Brian O'Driscoll knows his own mind and will be in the right place to achieve what he wants. He can always change his mind at any stage between now and the end of next season.
Josh: What do you think of Quade Cooper's exclusion from the Aussie squad for the Lions? Do you think it is punishment for his critical comments last year or do they really have better fly-halves than him? And will he get back into the squad when Robbie Deans adds six more players in June?
Hi Josh, it is a big decision leaving such a talented player out. If he's not in the squad come Lions tour time and Australia lose the series, Deans will most likely be out of a job. If Australia win without Cooper then Deans will be justified. I don't know his personality so can't say whether I'd have him in, but on rugby ability alone I would.
Jjpd90: An Australian team missing Pocock, Beale, and Cooper can surely not challenge the Lions? I can only see a series win for the British and Irish contingent, what do you reckon?
Hi Jjpd90, never write the Australians off. They put England away in the autumn with an injury riddled team.
Barry Chuckle : Do you think it's time to put the Lions to sleep? The amount of money it costs to send them off to tour in meaningless fixtures is colossal. I truly believe there would be much more benefit in the four nations touring separately and growing as team. This is what would make northern hemisphere rugby stronger. We are carrying on with tradition for tradition and sponsors' sake.
Hi Barry, the Lions for me were so special for many reasons. I agree with Ian McGeechan saying there should be more support given to making the Lions tour more workable in the professional era. Ask any player if they want the Lions to continue, or any supporter who has experienced the tour, and I believe the answer would be a resounding yes.
Danoc131: I was disappointed yet understanding about Ronan O'Gara's retirement from all forms of rugby. Where would you place him amongst the all-time great fly-halves? Furthermore, with the modern-day commands for bigger and stronger players, will we see the likes of him again?
Hi Donac131, Ronan O'Gara is right up there in terms of talent. He played such an influential role in that excellent Munster team. He definitely has legendary status. You will see players of his size continue to pop up in rugby, I have no doubt.