Lions 2013: Willie John McBride questions Warburton captaincy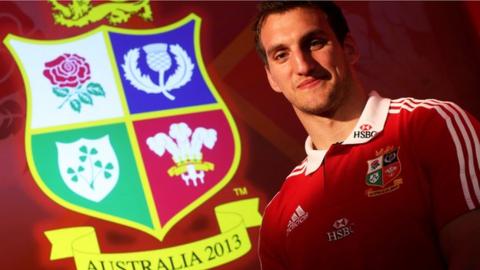 Legendary Lions captain Willie John McBride says he would have made Brian O'Driscoll skipper for the summer tour of Australia ahead of Sam Warburton.
The Wales flanker will lead the Lions on the 10-match tour Down Under.
But McBride, who captained the Lions on their unbeaten 22-game tour of South Africa in 1974, has reservations.
"[It] worries me a little bit that he [Warburton] wasn't prepared to take on that responsibility [captaincy] for Wales during the year," McBride said.
"I must admit that personally I would have taken O'Driscoll [as captain], who relishes the captaincy and he's playing well, and he's been around a long time [and] he has a lot of experience at captaincy.
"But there you are, Warburton's the man and we wish him good luck and I hope he does well."
Warburton led Wales in their 30-22 defeat by Ireland in their opening 2013 Six Nations game.
But the Cardiff Blues open-side missed the second game in France with injury and then came off the bench against Italy, while Ryan Jones led Wales in their 28-18 win over Scotland.
And Gethin Jenkins captained the side in the championship decider against England after Jones was injured, with Warburton admitting he wanted to concentrate on his own game.
He said at the time: "I can go out and just focus on myself and try and perform the same way as I did last Saturday."
McBride says that decision is a concern for him.
"That would have been a great experience for him in building up to a Lions tour," said the Ulsterman, who played on five British and Irish Lions tours between 1962 and 1974.
"I don't quite know why he did that [opt against captaining Wales], I think he felt that it might interfere with his game and that's a little bit worrying.
"But obviously [Lions coach] Warren Gatland knows him and is happy enough, and he's his choice as captain and so we've got to go with that."
McBride, 72, says captaining the Lions is the biggest honour for any rugby player from Britain or Ireland.
But he added: "With the honour comes responsibility and you mustn't forget you have players from the four countries.
"You don't have Welsh Lions or Irish Lions or English Lions or Scottish Lions - they're all Lions, and the first thing he [Warburton] has to do is weld them into a team and forget about the nationalities.
"After that he's obviously got to play well and lead well, not only on the field but off the field. And obviously it carries a lot of responsibility with it if you're going to win."