Jeremy Guscott on the Lions squad, Stevens and Wilkinson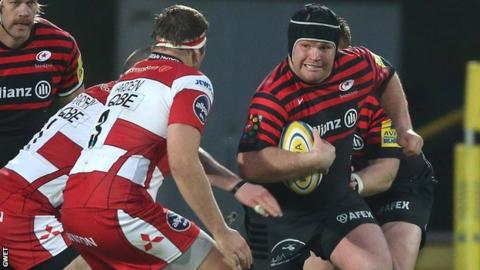 This is a good-looking Lions squad with no obvious weaknesses and that is no surprise because they could have picked any one of about 80 players to go to Australia.
England captain Chris Robshaw is just one of a number of potential candidates who have missed out, but every time the Lions tour there are quite a few unlucky players who do not make it because the competition for places is incredibly high.
The big surprise is the inclusion of former England prop Matt Stevens, not because he is not good enough, but because he has been out of the international scene for the past year - I do not think anyone picked him in their provisional squads.
He is a great inclusion because he is a sizeable individual who has been playing well for Saracens - I guess they have picked him based both on his good form for his club, and his past international pedigree.
Although he is a tight-head he can play both sides of the scrum, which is very useful even though they are taking six props down under.
His selection shows where the coaches intend to go with their game plan - they are going to try to really put the Wallabies under pressure up front with power, and lots of it.
Given Sarries' rotation of their players and the fact he did not play in the Six Nations he might be a bit fresher than some as well, and he is also still only 30.
He is joined as one of the surprise selections by Saracens front-row colleague Mako Vunipola.
He is not as big a surprise as Stevens, but the 22-year-old has yet to nail down the starting loose-head prop place for England and would not have been considered a certainty to tour.
The big question mark would have concerned whether he could hold his own when it comes to scrummaging, because his dynamic ball carrying is exceptional and he is a good footballer for a prop too.
There was also some doubt whether Ireland captain Jamie Heaslip would tour, but head coach Warren Gatland always said that as long as a player was playing reasonably well, experience and reputation would be key factors.
Heaslip, who started at number eight in all three Tests in South Africa in 2009, showed signs of returning to his best form on Saturday, albeit in a romp against Biarritz, and I have no doubt being with the Lions will inspire him.
The two big talking points have surrounded the absence of Jonny Wilkinson and the selection of Sam Warburton as captain, but many rugby union fans would not have been surprised by the news concerning either the Toulon fly-half or the Wales flanker.
Warburton would not have been my choice to lead the party but I get why Gatland has gone for him.
He made him Wales captain a couple of years ago and it makes sense to do the same again.
The relationship between the head coach and the captain has got to be really tight and they clearly have a great understanding.
Warburton is a complete professional, he is very dedicated and when fully fit his performances are very consistent - he will lead from the front.
Whether he plays open-side or not remains to be seen but just because he would not have been my choice does not mean I do not respect him, he is a tremendous player.
Jonny's decision not to go is a real tribute to his professionalism and shows the respect he has for the Lions.
Gatland said he wanted his entire squad to be available from the first match, something Wilkinson could not guarantee, and by saying no, Jonny has shown that he does not want to be treated any differently to the rest of the squad by going out later - he does not want the attention to be on him.
Based on his recent performances, Jonny would be everyone's pick to tour but he thought 'why should I be the one to arrive late? The Lions deserve massive respect, I shouldn't be going'.
I am slightly surprised that Owen Farrell is going as only one of two fly-halves because I thought they might have taken Welshman James Hook.
Farrell does the basics well but he does not offer much of an attacking threat with his running game, he certainly does not go through too many gaps.
When he plays like he did against New Zealand and Scotland he shows he can be a threat, and he will need to rediscover that if he is to make an impact on the tour.
There is no doubt this Lions squad can go down under and win, like the 1989 vintage I was part of.
We should not make the mistake of writing Australia off, like lots of people seem to be doing, just because they are having a few problems at the moment.
The Aussies are very smart rugby players, but based on their forward power the Lions will win this series.
Jeremy was talking to BBC Sport's James Standley.