Lions 2013: The fall-out from Jonny Wilkinson's Australia opt-out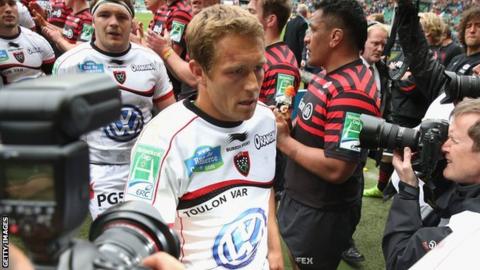 On a day when 37 players were selected for the British and Irish Lions, it might seem strange that so much attention is being focused on one man who missed out.
There will be those who feel that the omission of hooker Rory Best should be a bigger rugby talking point than that of Jonny Wilkinson.
There is also the matter of the surprise inclusions: Matt Stevens, once banned, now retired from England duty; Mako Vunipola, not first choice for England; Sean Maitland, Scotland's Kiwi convert who was on no-one's list at the start of the year.
There are meaty bones to pick over in coach Warren Gatland's squad: the decision to take just two fly-halves, the shortage of genuine inside-centres, selecting in Welshman Sam Warburton a skipper who so recently lost the honour of leading his own country.
Yet, of all those, it was the jilting of Jonny that dominated the news conference afterwards and the headlines that followed.
Except, as Gatland and tour manager Andy Irvine revealed under questioning, it was rather more complicated than it first appeared.
Irvine had read out the selections by position and then alphabetically. When the names of fly-halves Owen Farrell and Jonny Sexton were followed by that of scrum-half Conor Murray, it appeared the 33-year-old had simply been passed over.
Only afterwards did it transpire that, in fact, an initial offer had been made. Before the final selection meeting on Monday afternoon - the seventh discussion the coaching team had sat through - Gatland had phoned Wilkinson and enquired about his availability.
Wilkinson replied that he was committed to his club side Toulon and their attempt to secure a Heineken Cup and Top 14 double. He also flagged up concerns that his long-serving, oft-battered body would struggle to support him through a full tour.
Would Gatland otherwise have picked him? While no direct answer was given, it was clear that the answer would have been 'yes'. A leading British bookmaker is so convinced that it is refunding stakes to those who bet on Wilkinson's selection.
It was also clear that Wilkinson would have gone to Australia in addition to Farrell and Sexton, rather than in place of one of them. All of which raises more intriguing questions.
The two-10s strategy now appears as much a product of Wilkinson's polite rebuff as an overarching policy. Had the two-time tourist agreed to a third Lions tour, Gatland would have instead taken three.
If the management team felt, before that phone call, that three fly-halves might be needed - as many do, considering the dearth of specialist cover - why were two enough a few minutes later?
If hardly a ringing endorsement for the other potential options - Dan Biggar, Rhys Priestland, Greig Laidlaw, James Hook - it is also surely something of a gamble.
Gatland insisted that full-back Stuart Hogg offered additional cover. But Hogg has barely played stand-off since school, let alone in the unfamiliar conditions and brutal intensity of a Lions tour.
It is an interesting - and legitimate - discussion because it could have such a decisive effect on the tour's success. Wilkinson, unlike his old golden-boy contemporary David Beckham, is still operating at the highest level in an entirely competitive manner.
Not for Wilkinson a gentle valedictory tour of his sport's PR-hungry outfits. His time at Toulon, far from being a stroll into the southern French sunset, has reinvigorated body and mind.
In Sunday's victory over Saracens in the Heineken Cup semi-final, he was demonstrably superior to Farrell. With Gatland likely to meet the Wallabies' flair with straight lines and big hits, Wilkinson's game is entirely suited to the challenges ahead.
That Wilkinson turned the chance down, despite calls from the world's best 10 Dan Carter and former South Africa skipper John Smit that he should go, speaks not only of integrity, as Irvine pointed out afterwards, but also of practicality.
Wilkinson may need another operation in the close season to fulfil the additional year to which he has committed with Toulon. Their success this season means he would be unavailable for the two training camps the Lions are holding in Ireland and Wales next month, as well as potentially the first two games of the tour.
He also has little unfinished business with the Lions. Injury may have ruled him out of contention last time around, but he toured in both 2001 (starting all three Tests in tandem with scrum-half Rob Howley) and in 2005, when he appeared at inside-centre in the first Test and 10 in the second, until a stinger injury ended his involvement.
Neither has the door entirely closed. Lions squads mid-tour usually bear the scars of battles won and lost; replacements are summoned, and some become essential elements of the first XV.
There is nothing to suggest that 2013 will be any different. Gatland has said he will not be naming an official reserve list, with all players on tour with their respective countries effectively on stand-by. Wilkinson, if still fit when Toulon's campaign ends, will surely be the first name on his list should Sexton or Farrell be ruled out.
Wilkinson has toured Australia before, both with the Lions and England. He has experience of its unique conditions; then again, he has experience of pretty much everywhere. If ever a man could be relied upon to stand and deliver having just stepped off a 24-hour flight, it is he.
The romantics, at least those with a red rose clutched to their chests, had dreamed of the old warrior once again sealing a wonderful win on Sydney soil, a decade on from his defining moment in that World Cup final's excruciating extra-time.
That sentimental scenario, outlandish already, is now even more unlikely. But it cannot entirely be ruled out.