Lions 2013: Gareth Davies unsure on Sam Warburton as captain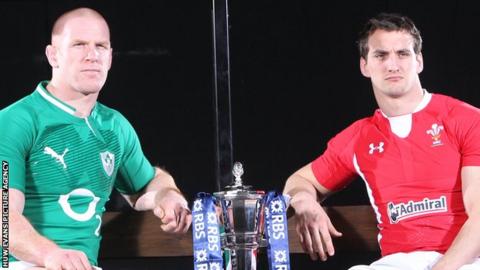 Former Wales fly-half Gareth Davies does not believe Sam Warburton is the right man to lead the British and Irish Lions on their tour to Australia.
Coach Warren Gatland is set to announce his squad on Tuesday, with Warburton favourite to be captain.
But Davies, a member of the 1980 Lions tour to South Africa, said he would plump for Ireland lock Paul O'Connell.
"Someone like Sam Warburton has enough to do to get on with his game and secure his Test place," said Davies.
"The captaincy for the Lions is critical, bearing in mind one of the main projects, I suppose, is to bring players from four nations together.
"So I think he [Gatland] needs certainly a strong leader and I think if Gatland gets it wrong, then it could be an ongoing problem.
"That's why, in many ways, I tend to sit on the Irish side and go for Paul O'Connell, I think, in terms of being a very old head who knows his way around."
Asked whether Warburton could do without the captaincy, Davies said: "I'm not sure about that.
"Sam has coped very well with the Wales captaincy. Many people were surprised when he was picked as captain for the [2011] World Cup, for example.
"But he's handled it all very well and it's not doubts against Sam. I just think that if he really wants to secure a Test place.
"He's got stern competition from a rich pool of talent in the back-row and I think in some ways he'd be better off concentrating on his game as a back-row forward as opposed to taking on the responsibilities of captain."
Davies, who made one Lions Test appearance in 1980, feels Wales' Dan Biggar could miss out on the tour and doubts Gatland will pick Jonny Wilkinson because of doubts over French-based players' ability to travel at the start of the tour.
But former Cardiff player Davies is also unimpressed by Saracens' Owen Farrell and, while he expects Ireland's Jonathan Sexton to be selected, he sees another Irishman, Leinster's Ian Madigan, as a dark horse.
"I feel it's very difficult that Gatland and his co-selectors can go for Owen Farrell either, because I think he's been fairly mediocre, less than mediocre, first of all for England against Wales and against Wilkinson [in Saracens' Heineken Cup defeat by Toulon]," said Davies.
"So it's turned out to be a bit of a headache for Gatland.
"Before that I think he would have gone for Farrell and [Jonathan] Sexton.
"Sexton will go, I think, but he hasn't really been on top form.
"One dark horse, I think, possibly could be Ian Madigan from Leinster, who made a great impression on me, watching him play for Leinster over the last few weeks, or you could get Dan Biggar coming in on the blindside."