Edinburgh mark Allan Jacobsen's retirement by creating new award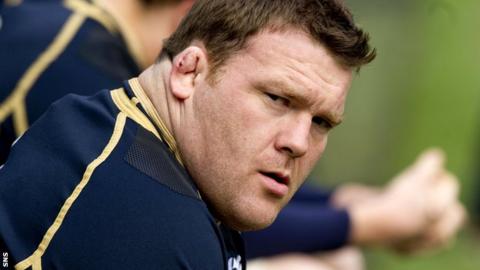 Edinburgh Rugby are to launch a unique club trophy in the shape of retiring Allan 'Chunk' Jacobsen's ear.
The annual award will be presented to the player voted 'most dedicated' by fans of the Murrayfield side.
Jacobsen will receive the inaugural 2012/13 trophy when this campaign ends.
He said: "It's nice to think that the players down the line that have shown the most commitment to the jersey will get recognition from the fans - even if it is a mould of my ear!"
The 34-year-old announced he will retire at the end of the season after being with the Scottish capital side since 1999. He is their longest-serving player and record appearance holder.
Jacobsen also won 65 caps for Scotland.
Edinburgh Rugby's club dentist took an impression mould of his right 'cauliflower' ear, which will be used to create the trophy.
And Jacobsen added: "It was definitely a strange feeling to have my ear filled with paste to make the mould, and even stranger to think it's going to be part of a trophy for years to come.
"But it's a really nice gesture from the club. I'm honoured."
Edinburgh's final game of the 2012/13 season is against Dragons at Murrayfield on 3 May, after which the unique gong will be given to Jacobsen - one of several players leaving the club at the end of the campaign.
Recently appointed managing director, David Davies, believes the honour for Jacobsen is well deserved.
"Playing for Edinburgh Rugby has meant the world to Chunk, whose commitment to the jersey has been exemplary," Davies told the club's website.
"He's a local boy who's been a fans' favourite for 16 years and we think it's fitting to create an award which combines his connection with our supporters with the qualities that have made him so popular."