Jeremy Guscott on London Welsh relegation, Saracens double hopes

By Jeremy Guscott
Rugby Union analyst, BBC Sport
Last updated on .From the section Rugby Union201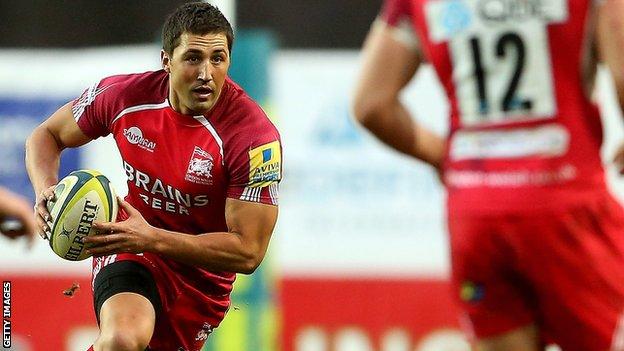 Among the topics Jerry discusses this week are:
- Whether Saracens can win the league and European double
- Which teams will secure the Premiership's final two Heineken Cup places
- What the Pro12 semi-final line-up will be
- Who his Lions centres would be
Jerry answers questions posted on the website at the start of every week - entries are now closed for this Q&A. This week's answers appear below.
With London Welsh going down as predicted (but not without a decent fight) from the Premiership, what chance do you give them of bouncing straight back up? PiggnGoat
Hi, it looks as though it's going to be hard for Welsh to bounce back given that we hear one of their major backers is looking to withdraw his support. There has to be a big plan put in place to come back up - they need to get both the financial support and the right players with the right mind-set to get them back.
At the moment they don't know 100% where they will be playing - Oxford or back in London - and they're unsure which players will want to stay. It's a bit of a muddle and I don't see them coming straight back up.
Do you think Saracens could win the Heineken Cup and Premiership double? zacattack99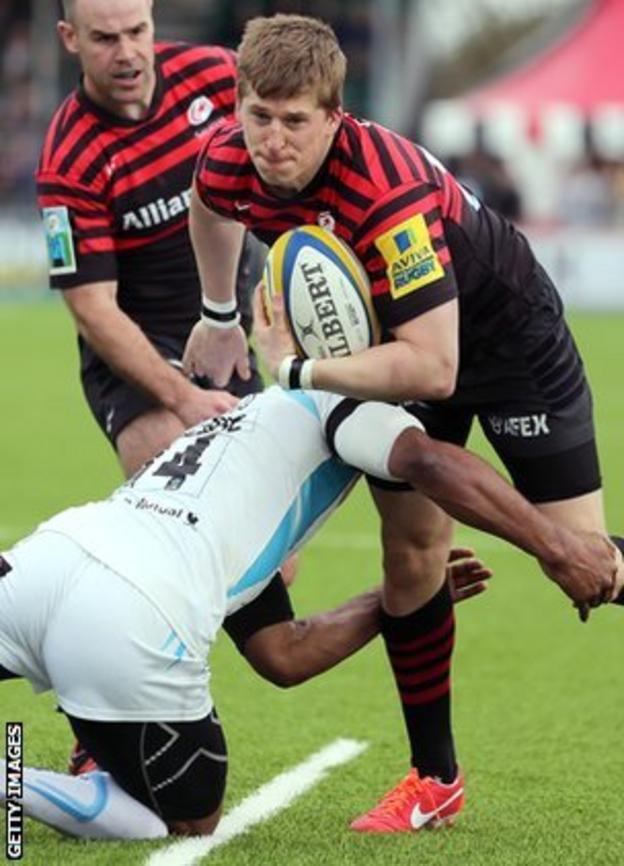 Hi zacattack99, it is possible for Sarries to win the double but unlikely, only because of the strength of French side Clermont in the Heineken Cup. Saracens would be my slight favourites to win the Premiership title though.
Hi Jerry, Leicester have the most try bonus points this season, followed by Saracens and Northampton. All the other clubs have fewer.
Do you think it's time that Gloucester, Wasps, Harlequins and the others stop playing dull, one-dimensional, boring rugby and try to win some games with some try bonus points like Tigers and Sarries do? It would help if they had some creativity in the back line obviously... StandUpForTheSaracens
Hi StandUpForTheSaracens, I understand what you're saying, and although it's a bit tongue in cheek, you make a good point. I used to play in an England team that got criticised because we bulldozed teams, but what people forgot was that we scored a lot of tries along the way and won most games in the Five Nations (as it then was).
However, while Sarries have five try bonus points this season (one fewer than Leicester) they haven't actually scored that many tries. They have bagged 36 but Tigers (who lead the way with 49), Quins, Saints, Exeter, Bath and Wasps have all scored more.
Sarries aren't top of the league because of their try-scoring. They are top because they stop teams scoring against them - they have only conceded 20, which is one per game, and the best record in the league.
Hi Jerry, a lot has been said about Wasps' Christian Wade and Gloucester's Jonny May, suggesting they should be in the England squad and that they are the in-form wingers.
Do you not think that England's forgotten man, Saracens winger David Strettle, should be in with a shout of the Argentina tour as he is on fire at the moment and scored a hat-trick at the weekend? walsh99
Hi walsh99, without doubt Strettle should go - he's a class winger - but it's becoming a strong position for England, with plenty of competition. It would be difficult for England boss Stuart Lancaster to leave Wade and May at home this summer. He needs to find out about them and Argentina will be ideal.
Hi Jerry, do you think Leicester backs Anthony Allen and Mathew Tait have earned a seat on the plane to Argentina for England's summer tour? Both have been in dazzling form in attack recently, consistently beating defenders with their step. They are both, especially Allen, strong in defence.
I may be biased, as a Tigers fan, but I believe they have what it takes to tour. Or do you think England boss Lancaster will keep his non-Lions together? NJDevilMatt
Hi NJDevilMatt, Allen probably deserves to go because of his consistent performances over the past few seasons but I'm not convinced he'll be picked. His competition for a berth in the centres will be the likes of Jonathan Joseph, Billy Twelvetrees, Joel Tomkins, Jordan Turner-Hall and George Lowe.
It will be even harder for Tait because I doubt whether incumbent full-back Alex Goode will go on the Lions tour so he should go to Argentina, along with Mike Brown and Ben Foden. There is a chance Tait might go as a bit of a utility back.
Hi Jeremy, with the race for the Heineken Cup places tight in the Premiership, which two teams out of Bath, Wasps and Exeter have the best chance of finishing in the top six? jp
Hi, Bath will struggle because they have a really tough run-in - facing Tigers at home and Sarries away rules them out of the race for me. I believe the table will remain the same as it is now, with Gloucester and Chiefs qualifying in fifth and sixth respectively.
Hi Jeremy, what are your predictions for the Pro12 semi-final draws? Looking at their final two games, I personally hope Ulster will manage to clinch the top spot, but the other three positions are still pretty open. Chris
Hi Chris, Ulster v Scarlets and Leinster v Glasgow.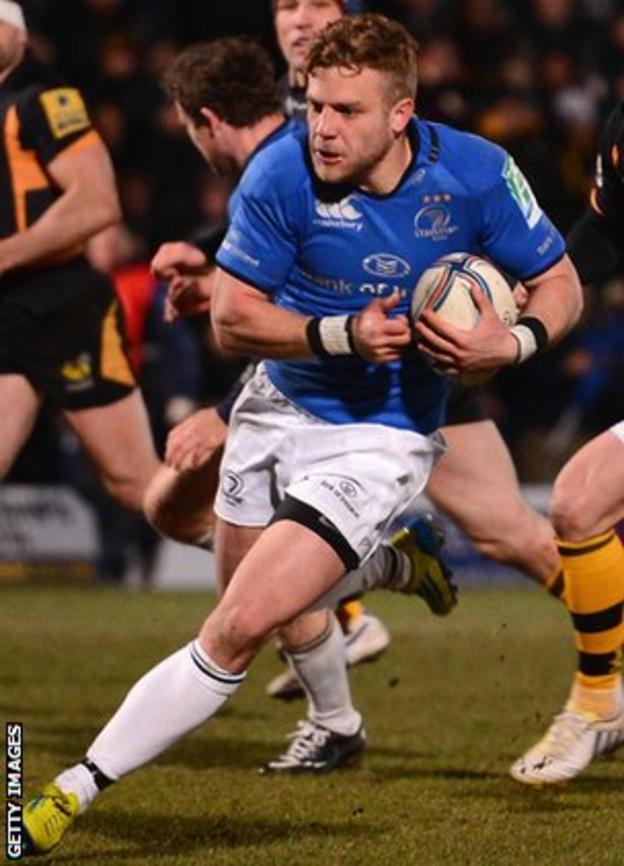 Hi Jerry, while everyone is raving about Wasps winger Christian Wade, Ian Madigan has been consistently shredding opposition defences for several months now with Leinster. What hope does the 24-year-old Irishman have of making the Lions given the lack of depth at 10?
He is versatile in his ability to cover 12 and 15 to a decent standard (he's started four Heineken Cup games at full-back, including home and away to Clermont) and is an 87% kicker. Garryowen15
Hi Garryowen15, it would be a major surprise if Madigan made the Lions. I agree he's a talented player but now is not his time. He needs to be selected ahead of Ulster's Paddy Jackson for Ireland against the United States and Canada this summer.
There could be a long and interesting rivalry between Madigan and Jackson for the Ireland shirt in the future, although Madigan has to stick at 10. However, that should happen now first-choice Leinster fly-half Jonny Sexton's off to Racing Metro next season.
Hi Jerry, you are playing for the Lions and England at centre this summer, who do you want as your partner? Since you played both inside and outside centre, you can tell us who you'd like as your partner in each position, rather than which two you think are the best blend for the teams. GM Massingbird
Hi GM Massingbird, I would have Billy Twelvetrees at inside centre for England with Manu Tuilagi outside. For the Lions I would have newly qualified doctor Jamie Roberts at inside centre, although he'll have to pass a bit more, and then it's close between Ireland's Brian O'Driscoll and Wales' Jonathan Davies for the 13 shirt - but BOD gets it.
As an American of a certain age (old), I don't understand what you mean when you refer to someone as a "good footballer". I know it refers to what we call soccer, but what does it mean exactly for a rugby player to be a good footballer, and why is it a good thing? BodiesAtRest
Hi BodiesAtRest, "good footballer" means the player has good all-round rugby skills. He can play in any fashion he wants, isn't just a defender or an attacker, can kick and has great handling ability, and of course can make a tackle.
As an aside, the game is sometimes still referred to as rugby football, and even footy in some parts of the world.