Nottingham Rugby: Martin Haag signs new contract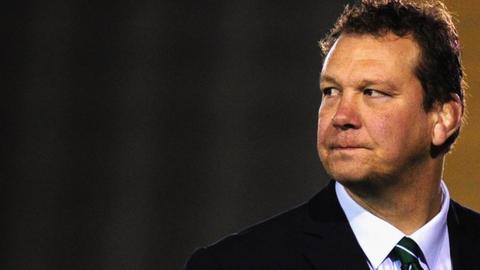 Nottingham head coach Martin Haag has signed a new contract at Meadow Lane to run until the end of the 2015 season.
Haag, 44, only agreed a one-year deal when Glenn Delaney left last summer but has been rewarded with new terms after steering the Green and Whites to the Championship promotion play-offs.
"Martin's come along and done a fantastic job," chief executive Simon Beatham told BBC Radio Nottingham.
"He's enjoyed his time and the city, and was happy to commit."
Beatham continued: "We spent a long time going through the interview process, but we hoped and we felt at the time that he was the best fit for the type of environment we were trying to create.
"There was faith and confidence in him that he would blossom and develop and I think he has shown that and there's a lot more to come."
Nottingham can secure a second or third-place finish in the league and avoid facing runaway leaders Newcastle in the play-off semi-finals if they take two points from their last two regular-season matches.
Their first chance comes against Cornish Pirates, who visit Meadow Lane on Sunday.
Beatham said: "We have reached the semi-finals for the first time ever this season and our campaign is far from over.
"It comes as a huge boost that Martin has signed a new deal leading up to one of the most exciting months in the club's proud 137-year history.
"He leads a strong and talented coaching team, that includes Ben Johnston and Neil Fowkes, with great commitment and skill and we are very confident he will continue to guide and inspire the development of the squad.
"Martin has demonstrated a great ability to get the best out of the players, and this is an exciting chance for him to develop the squad. Over the coming days and weeks we have a number of big announcements to come about the squad."
Centre Tim Streather said the team were focused on finishing the season as strongly as possible.
"Right now it all about continuing to play well," he said.
"Two league games means that there are 10 points up for grabs, so our focus is on getting as many of those as we can to finish as high as we can to round off the hard work we have done since May."