Jeremy Guscott Q&A

By Jeremy Guscott
Rugby Union analyst, BBC Sport
Last updated on .From the section Rugby Union166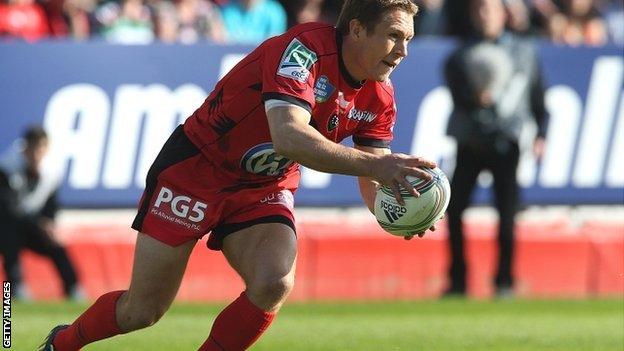 Among the topics Jerry discusses this week are:
- Winners and losers from the Heineken Cup quarter-finals
- The Lions chances of and
- Could Christian Wade or James Hook be surprise picks?
- Should Europe adopt a Super Rugby-style league?
Jerry answers questions posted on the website at the start of every week - entries are now closed for this Q&A. This week's answers appear below.
Hi Jerry, after Wilkinson and O' Connell shone in their respective Heineken Cup quarter-final matches, do you think Warren Gatland will have them in mind for his upcoming Lions selection now? Is it just too late in their careers? MattB
Hi MattB, I can't fault Jonny Wilkinson's or Paul O'Connell's performances at the weekend. Both were big influences in their teams' wins. At fly-half the Lions aren't overly blessed; Sexton is a definite but then it gets thin with Flood, Farrell and Biggar - so Wilkinson must be in with a big shout.
Second row is very competitive and I'm not so sure O'Connell will make it, but his experience would help.
Hi Jerry, do Saracens have enough talent in their side to beat the rock stars of Toulon? Both are at the top of their respective domestic leagues, so who would you say has the edge in the semi? Mr Ichallen
Hi Mr Ichallen, Sarries would be my favourites against Toulon; I still have my doubts about Toulon's collective will to dig it out when it gets tough away from home.
I watched Sarries and they were so clinical against a hard-working Ulster team that never sat back. With the game at Twickenham, Sarries will make the final.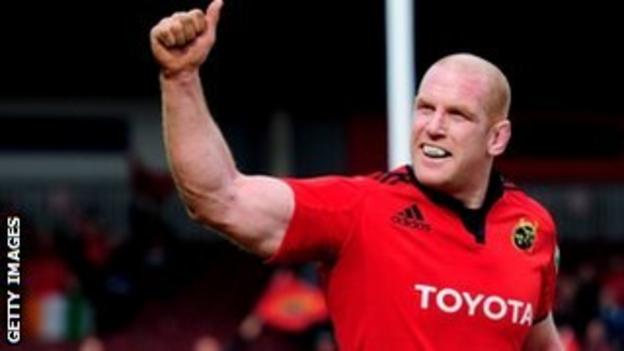 Hi Jerry, after (beating an excellent Quins team), are they potential favourites going into the Clermont Auvergne match? Personally, I have belief after Clermont were favourites last year but still Leinster managed to beat them. Munster0608
Hi Munster0608, it was a fantastic performance by Munster, they've done it again and nothing should ever surprise us about their victories. Clermont is so different, these guys really are the best in Europe and it's difficult to see them getting beaten.
Yes, it could happen, but Clermont have so much firepower and fitness you wonder how they can lose.
Hi Jeremy. Brilliant though Munster's display was, for them the Heineken Cup is all that matters. They don't have to qualify for it and they clearly don't care too much about the league. Quins, on the other hand, have other priorities too - they want to finish top-four in the Premiership and qualify for the Heineken Cup next year. This takes it out of them as a squad. The playing field isn't level is it? Courtneym
Hi Courtneym, yes, that's true to a large extent. Munster would like to win their league if possible but the Heineken Cup is their priority. Quins' intention would have been to have a better Heineken Cup campaign but they are new at this.
They haven't had so many international representatives before this season and I don't think they'd prepared for that disruption.
Yes, they won the LV Cup with a lot of young and inexperienced players, which is good, but the Heineken Cup knockout stages require most teams to be at their best. Quins came off the back of some poor results and couldn't get it going in time.
O'Shea should learn from this and work on integrating those internationals back into the team more fluently, which is hard given there's so little time to do it.
Hi Jerry, How do you explain the try fest in the Amlin compared to the try drought in the Heineken Cup? There will always be a requirement to mix the pragmatic with the free flowing but how can the northern hemisphere game move towards a more try-orientated game? CorseKen
Hi CorseKen, the Amlin Challenge Cup simply isn't as pressurised as the Heineken Cup, where the majority of teams playing were more evenly matched.
After watching the Heineken and Amlin matches, there seems to be an increase of chat towards the ref. Advice, complaints and suggestions all being dished out during and after play. Do you think it's a problem and do you think the IRB should do something about it? Dom
Hi Dom, if refs allow players to chat back to them, it's their own fault. It shouldn't happen and refs should clamp down more.
Hi Jerry, I am currently living in the southern hemisphere and, because of this, I am watching a lot of Super Rugby. Do you think the Heineken Cup (and in extension the Six Nations teams) would improve by restructuring to a 'European league' similar to Super Rugby? In my opinion it is a much more efficient way of increasing the talent pool and making more competition for places. What do you think? Spuds
Hi Spuds, I'm happy with the domestic leagues and European competitions as they are, although Europe could be made fairer with tougher qualification for Pro12 teams.
There's little development in the Premiership because teams can't afford to spend time developing young players - it's all about winning and avoiding relegation.
Hi Jerry, does the ERC need to impose a restriction on the number of foreigners a team is able to field at any one time? Toulon fielded 11 players in their starting 15 yesterday who are ineligible to play for France (with a few more on the bench for good measure), most of them being highly paid and in their 30s. That cannot be good for the game? Magic_Dragon
Hi Magic_Dragon, that's a big problem in French rugby but not big in the Premiership or Pro12. I'm sure French rugby authorities will be looking closely at sorting that out soon or their national team will suffer even more.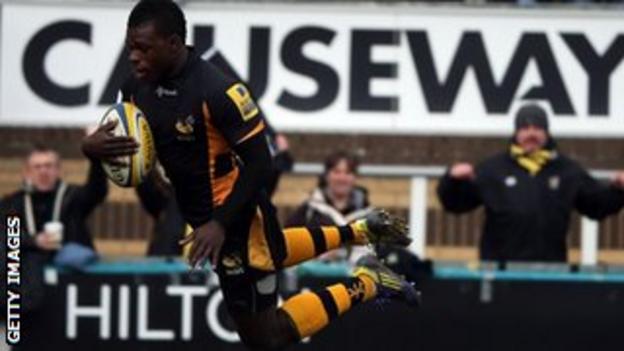 Hi Jerry, after another great performance (albeit in a loss to Leinster), do you think it's time people stopped talking about what Christian Wade can't do and started talking about what he can do? Also, do you think he could be a wild-card pick for the Lions tour? magicDarkshadow
Hi magicDarkshadow, Christian Wade is all about scoring tries - his blistering speed, swerve and step are fantastic to watch.
Until Stuart Lancaster and his coaches change attitudes to concentrate more on attack, I'm afraid we will always be talking about 'what if?' and that's a big shame.
If he continues to score tries like he has, he cannot be ignored.
Hi Jerry, I watched Perpignan v Toulouse in the Amlin Challenge Cup last Friday night, and it really hit home to me how talented James Hook really is still. How do you rate his chances of getting on the Lions tour as a utility back? Will13
Hi Will13, Hook stands a chance because of his ability to play a few positions, but the playmakers of midfield in today's modern game don't get the look in they deserve. I doubt he will go.
Hey Jerry, lots of people are talking about how small the Irish backs are (excluding a few). Guys like Fitzgerald, D'Arcy, Madigan, Earls, Gilroy etc. may be fine footballers and, pound-for-pound, strong men, but is there a set of tactics that the new Ireland coach can employ to better suit small but skilful players, both defensively and offensively? The Welsh backs have size, agility & speed! InconX
Hi InconX, you have to make the best of what you have. To make the most of the players you mention you have to play a faster more attacking game than normal, and that's not easy against size and power.
It's possible, but you do need a blend of power and skill to match the physicality of a lot of teams. Speed and skill alone won't be enough.
Hi Jerry. What will have the biggest bearing on Warren Gatland's selection for the Lions. Is it the Six Nations or will it be the Heineken Cup? How will Gatland play his cards? Alan1104 (Wales)
Hi Alan1104, form from the Six Nations will have the largest bearing on Gatland's selection of players for the Lions tour.