London Welsh will fight for survival, says Tony Copsey
Last updated on .From the section Rugby Union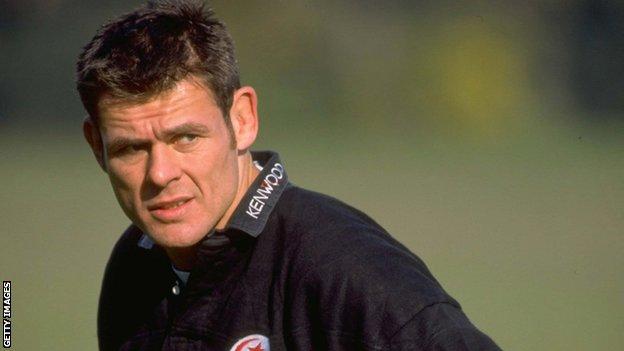 London Welsh CEO Tony Copsey says the Exiles will fight to stay in the Premiership after their appeal against a points deduction was turned down.
An RFU panel declined to remove a five-point penalty for fielding an ineligible player, leaving Welsh five points adrift at the foot of the table.
But Copsey told BBC Radio Oxford that the club still believes survival is a possibility.
"It's a tough run-in, we've known that from the start," Copsey said.
"There were never any guarantees that the club was going to be in the Premiership.
"But what's disappointing is that it's events off the field, not on it, that are deciding the outcome.
"It's key for the club now to focus on our remaining four games, put every effort into that and support the players.
"It's extremely important that everyone gets behind this tremendous group of players who have played so well all year above everybody's expectations.
"London Welsh is very much fighting for it's survival and to continue in the Premiership, and that's a two-year challenge, not just the next two months."
London Welsh argued that the breach of rules, which saw scrum-half Tyson Keats play 10 Premiership games despite an invalid visa, was the result of "one individual's actions", referring to former team manager Mike Scott.
And although Scott was banned from rugby union for life, Copsey says the wrong people are still paying the price of the RFU's decision.
"We're obviously extremely disappointed that we were unable to overturn the five-point deduction," he said.
"The club still holds the view that we haven't done anything inherently wrong and the punishment doesn't fit the crime.
"The bottom line is that the players and supporters of the club are being punished because of one individual's actions which we still feel is very, very disappointing."
Copsey says he is also unable to guarantee the Exiles will remain at the Kassam Stadium next season.
He added: "It [the appeal decision] makes it difficult.
"I stated earlier in the year that the short-term challenge for the club was very much about the resources that the club could bring together.
"We certainly believe Oxford is the place we want to play and where we want to be - that hasn't changed."