Jeremy Guscott Q&A

By Jeremy Guscott
Rugby Union analyst, BBC Sport
Last updated on .From the section Rugby Union245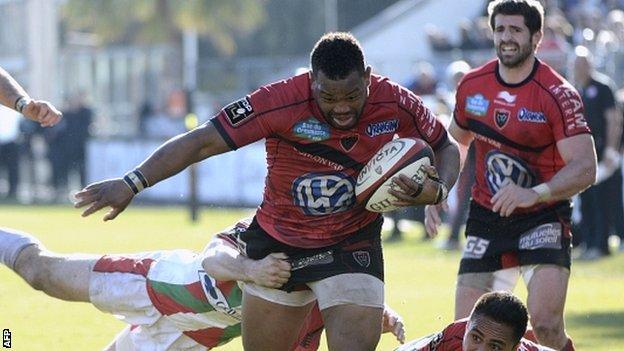 Among the topics Jerry discusses this week are:
- Is Steffon Armitage being unfairly overlooked for the Lions?
- Was Stuart Lancaster right to question referee Steve Walsh's decision-making in Cardiff?
- Will the Lions feature more Welsh players after their Six Nations win?
- Who might get picked as a Lions "bolter"?
- Will an English team feature in the Heineken Cup final?
Hi Jerry, Do you have any idea why Steffon Armitage is being forgotten by Lions selectors? He brings a huge physical threat, and is brilliant in an active wide-open running game, which is what we are likely to see down under. The fact that the Top 14 final is on the day the tour begins is not an excuse for him not to be picked in my opinion. If he's good enough he should go. Angus Lintern
Hi Angus, Firstly, I'm pretty sure Warren Gatland hasn't officially ruled out any player who plays in the French Top 14. Armitage's domestic stats are pretty impressive, he's already played a great deal of games and is doing well, not surprisingly given he plays for Toulon who are top of the French League. His average metre gain is 3.48, compared to Justin Tipuric (3.17), Sean O'Brien (4.34) and Australia's Michael Hooper (currently 2.64). Armitage's try count is far superior to anybody else and his tackle success is very competitive at 94%.
You're obviously entitled to your opinion, but he has to be good enough in Gatland's opinion and if he's not, he won't go. Personally, I believe he should have been given a run in the autumn or Six Nations. His form deserved selection but Stuart Lancaster decided it wasn't special enough to waive the RFU's policy of not selecting France-based players. Gatland now has the option of Tipuric, Sam Warburton, O'Brien and Chris Robshaw and I'd be surprised if Armitage figures, but pleased if he did. There would probably be some question marks around his fitness; the French didn't seem to be the fittest squad and that's a reflection of their league and style of play.
Hi Jerry, With people like Eddie Jones also questioning referee Steve Walsh's decision-making ability, surely Lancaster and Graham Rowntree have been completely justified in asking for clarification. What are your thoughts on this? SteveWalshsDubiousDecision
Hi Jerry, Do you think Lancaster and Rowntree were right in criticising Steve Walsh's decision-making - albeit in coded language - when Wales were clearly by far the stronger team on the day? It seems like an attempt to deflect criticism from themselves and to devalue the considerable Welsh achievement in overwhelming England. Dragonsbreath
Hi, I don't think it's wrong to question what decisions a referee makes in a rugby game. However, there are communication channels already in place to do so, and to make it public was the PR mistake. To not understand why the decisions were made was to admit they were under-prepared for the way Walsh would referee the game. I'd give the example of the World Cup final in 2003 when Phil Vickery was getting penalised. Clive Woodward replaced him with Jason Leonard and all seemed better after that.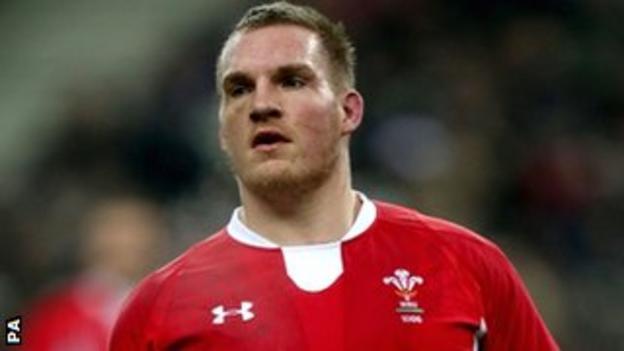 Hi Jerry, A lot of people seem to be picking mostly Welsh players in their Lions teams. While they were all outstanding against England, some of them have been nowhere near that level the bulk of the season. I think Gethin Jenkins is the best example, many people's loose-head pick despite hardly playing this year! What's your take on this? Dannyboy
Hi, I've said many times before selection is subjective and we all have our opinions which is great for discussion, but in this case it's Warren Gatland's selections that count. Gethin Jenkins has had an up-and-down season, he's not been happy in France, plus he's suffered a couple of injuries but there's no doubt he is finding form right now. For me, selection is all about form and a lot of Welsh players are better now than they were a few months ago.
Hi Jerry, If you could mix up England's back three for the summer who would you put in it? Mine would be Tom Varndell, Mike Brown and Tom Biggs. I think they would really spice up England's attack. TWinch
Hi Jerry, Obviously England were found lacking against Wales, with many saying there is a creativity deficit in the starting 15. Which three players would you most like to see put in the full England team this autumn? Feargus
Hi Jerry, What are the chances of Christian Wade, Jonny May and Kyle Eastmond making the summer tour? I think May and Wade certainly merit a place and Eastmond has the potential to be quite special - do you think Bath switching his position will help or hinder his chances with the England set-up given that the midfield positions seem to be set in stone so far? mightychewster
Hi, I agree that England lacked a cutting edge in a lot of the games played so far this season. I would look at playing Mike Brown or Ben Foden at 15 or Jonny May and maybe Nick Abendanon. On the wings I would look at Christian Wade, Charlie Sharples, Tom Biggs and maybe Varndell and Eastmond. All these players should go on the tour to Argentina. Eastmond is doing well in the centre at Bath alongside Matt Banahan. He has enough skill to play most positions in the backline - finding the perfect place is what has to happen now. I'm not sure if he has enough top-end speed to be on the wing but his ability to read a game would probably make up for that.
Hi Jerry, With all the teams at the top faltering in recent weeks, who is going to win the Rabo Pro 12? Tdkf
Hi, Leinster would be most people's favourites, but it's good to see Glasgow coming good. Ulster have stumbled after a brilliant start but have the quality of players to come good in the end. I believe Ospreys have a bit of a feel-good factor going with Justin Tipuric and Adam Jones doing the business internationally, plus Alun Wyn Jones. But I'll go for Leinster.
Hi Jerry, Mako Vunipola produced one of the most dominant all-round performances I've ever seen from a prop for Saracens against Quins last Sunday. His progress has been incredible this season and he's only 22. For me, he MUST go to Australia with the Lions, do you agree? Also, how about his brother Billy being on the plane with him... some serious physicality right there?! MattC
Hi, I accept Mako and Billy are forces to be reckoned with and are creating some interesting selection headaches internationally. No matter what anyone says in Mako's defence, his first scrum when coming on against Wales didn't do him any favours and Gatland will want to absolutely destroy the Australian scrum. I don't believe Mako will be selected for the tour. I hope he does but I think it's too early given he's not currently the number one selection. Billy has a lot of competition in that eight slot. He will have his time but not this year. I'm looking forward to how England go about accommodating Billy and Ben Morgan next season; both are tremendous ball carriers and love taking on players.
Hi Jerry, Do you have an tip for the "outsider" who will make the Lions tour, or do you think all the candidates will be names already bandied on these forums? Zippy
Hi Jerry, Are there any players who aren't currently internationals that you'd pick for the Lions? Rugbypete
Hi Jerry, do you see Warren Gatland selecting a "bolter" for the Lions, as is tradition? Christian Wade and Ian Madigan have been in great form for Wasps and Leinster respectively this season, but haven't been given much of a shot on the international stage. Theslosty
Hi, I really do like the look of Gloucester's Jonny May. He doesn't look like a player who thinks too much when he gets the ball; that's a good attribute, he plays what he sees and that's dangerous and pretty unorthodox in today's game. The wing position isn't overly stacked with rubber-stamped performers. George North, yes. Alex Cuthbert, maybe, but his defence isn't top notch. Chris Ashton might have played himself out, Mike Brown isn't a winger. Tim Visser, maybe, and also Sean Maitland. Possibly one of Simon Zebo and Craig Gilroy, and Tommy Bowe, yes, if he gets himself fit in time. A "bolter" may be Ugo Monye.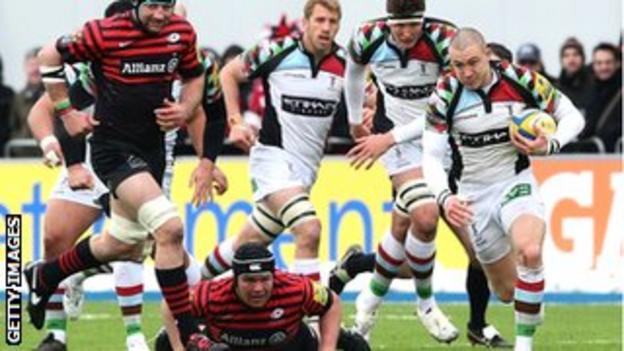 Hi Jerry, Why are Quins struggling to find form in the Premiership? As a season-ticket holder I don't think we have been anywhere near the quality we were last season. Have teams found us out? Rugby Lad
Hi, Don't panic just yet. Playing Quins for a lot of teams is the big game of the season because they are the current champions who everyone wants to scalp. Once Quins have settled back into being together again with their internationals back and integrated, I'd expect their form to rise. Saracens are going to be difficult to beat but in a final at Twickenham, Quins have the game to beat them.
Jeremy, Is Brian O'Driscoll's ban a blessing in disguise to the Lions? Will it give him a chance to take the necessary break his body needs and come back fresh and raring to go in Oz where his Lions career began? Also, should he captain the team - it would seem he is a stand-out option as he is playing in a position with very little serious competition and therefore sure to start? BRFC1995
Hi, No, I don't think the ban is a help to O'Driscoll. He needs the games to show Gatland he is back to his best, and playing more games with Leinster would undoubtedly help prove that. There is a lot more competition at centre than you think. Gatland will probably take four, from Jamie Roberts, Manu Tuilagi, Jonathan Davies, O'Driscoll, Brad Barritt, Billy Twelvetrees and Scott Williams. If O'Driscoll gets himself match fit again and plays like he can, then, yes, he should be captain.
Hi Jerry, Do you think we will see an English team in the Heineken Cup final? Sarries look pretty strong at the moment, Quins are capable of playing superb rugby. Rugby Lad
Hi, There's no reason why an English club shouldn't appear in the Heineken Cup final. I'm working for BBC Radio 5 live on the Sarries v Ulster game at Twickenham so looking forward to that one. Quins' match against Munster will be the making of them or the undoing. Having climbed the mountain of the Premiership, winning the Heineken Cup is next and to lose at home would be a disaster. I don't believe they will. If they both win they are likely to face incredibly difficult semis against the French teams with Sarries getting a home draw should they win.
Hi Jerry, My friend suggested a good way to encourage teams to attack more in the Six Nations (and other Tests) without introducing bonus points, is to only allow five penalties to be kicks at goal for each team, meaning more kicks to touch, quick taps etc. What do you think on this terrible/revolutionary idea? BruceyRees
Hi, I think that would encourage more penalties. The best way would be for refs to give more yellows for killing attacking ball, leaving fewer players in defence.