George North: Wales legend Phil Bennett fears wing will move to England
Last updated on .From the section Rugby Union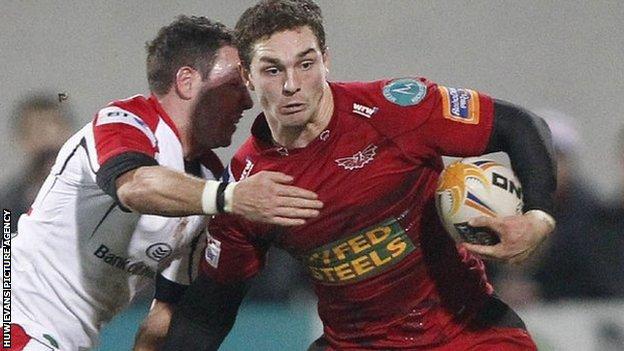 Llanelli and Wales legend Phil Bennett says the Scarlets may feel compelled to cash-in on star wing George North.
Bennett is concerned it may make more sense for the region to let North leave because internationals play so little regional rugby.
Scarlets are in transfer talks with Northampton over North, who still has one year left on his contract.
"It's a huge dilemma for the Scarlets. They want to run a business and have to balance the books," said Bennett.
"And as much as it will be devastating to lose George North, he's out of contract in a year's time.
"Does he stay for another season? And in that case he walks away in a year's time out of contract they would have had no compensation whatsoever.
"In all honesty because of [his] commitments with the World Cup and with the Six Nations and the autumn internationals and with the Lions tour coming up, how much will the Scarlets see of George North?"
Since making his debut for the region in September 2010, North has made 37 appearances for the Scarlets - six more than he has made for Wales.
And Bennett, who captained Wales and Lions in the 1970s, called for the Welsh Rugby Union - who have refused to comments on North's situation - and the regions to get together and thrash out a better way of compensating the regions for players taking part in internationals.
He questioned what the Professional Regional Game Board has achieved since it was set up by the WRU and the regions in December 2012 to oversee the domestic game.
"I was gladly heartened when I heard there was a new committee going to be formed," he said.
"But unfortunately I think they've had one meeting and I've heard not a lot from that meeting.
"I think we are desperate in Wales. It's so very difficult to keep your top quality players, the French sides are after them, the top English sides are after them."
Bennett believes money has to be found to compensate the regions and help them keep the best players.
Otherwise, he says, they are achieving little more than developing talent for richer clubs in France and England.
"There has to be more compensation," he said.
"It's great developing all these young players, bringing them through, costing the regions money.
"[But] all of a sudden then they're off playing rugby for Wales for three parts of the season and you hardly see them.
"For goodness sake, after last Saturday's wonderful victory [against England]... now's the time to get together, sit down, and see what we can do for the best of Welsh rugby.
"I think the union have to come in and work with the regions together truly for the benefit of all Welsh rugby, from the very top as well as the grassroots and the youngsters watching the game.
"They want to see the superstars in action and the only way is to pay them well, help the regions out, and keep them in Wales."