Guernsey have seven players picked for Hampshire rugby squad
Last updated on .From the section Rugby Union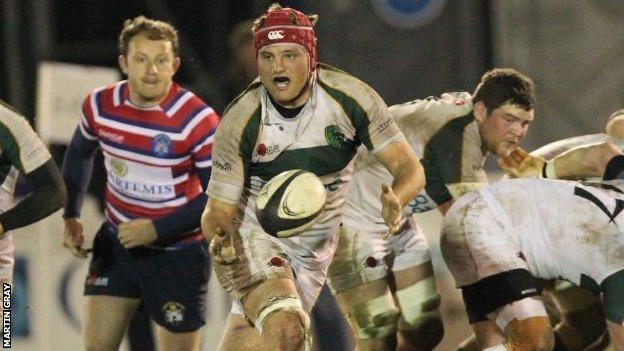 Guernsey Rugby Club boss Jordan Reynolds says he is proud of his side after seven players were called up to the Hampshire squad.
Blair Campbell, Chris Wood, Jason Harvey, Nick Barton, Cameron Craine, Lewis Hillier and James Regnard have all been picked for the County Championship Shield campaign.
It would have been eight but scrum-half Malcolm Barnes is out injured.
"To have half a squad in the Hampshire side is really good," Reynolds said.
"I was aware that they were interested in a couple of my players, but when they turned round and said there were seven I was proud of the guys."
The Channel Islands are part of the Hampshire RFU and apart from Championship side Jersey, Guernsey - who are mid-table in National Three London - are the highest-ranked club in the county.
Hampshire play Middlesex on 27 April and Sussex on 4 May, but the island's players will only be able to play in the opening match as the second game coincides with the annual Siam Cup match against Jersey.
And there could be more Guernsey players joining up with the Hampshire side according to as Reynolds.
"I know they're still interested in two or three of our other players, people like Leyton Batiste, Simon Sharrott, Tom Ceilam and Jason Batiste," he said.
"To get those seven guys in is a great bonus for us. There's a lot of talent in our team and to get recognised is a really great thing for the boys.
"We get a lot at junior levels, but to jump on that at a senior level and have something to aspire for after playing for the Guernsey first team is great encouragement for everyone.
"When you're playing in the County Championship you're going to be seen by a lot of coaches.
"There's a lot of young guys coming through that would like top be playing on the mainland at a higher grade.
"This gives them a perfect opportunity to play against better players and in a competition that's a bit different to what we have over here."