Six Nations: In camp with Stuart Lancaster's England

By Alastair Eykyn
BBC Radio 5 live
Last updated on .From the section Rugby Union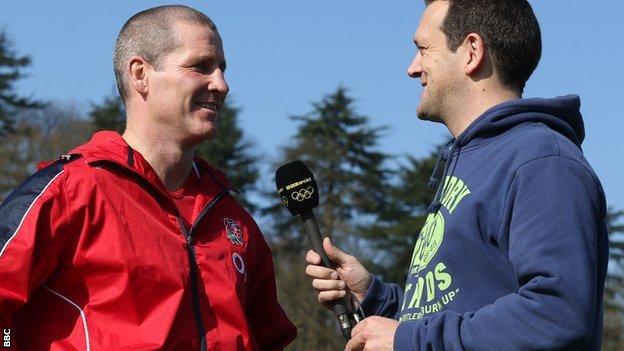 England head coach Stuart Lancaster has always adopted an "open door" policy with the media.
If you have a question, he will answer it. If you want an explanation, he will give one. As a general rule, he doesn't mind at what time of day or night you ask, because he feels comfortable telling you how he does his job.
It was on that basis that, in January, I asked to spend a week "in camp" with the England squad, as they prepared for the Six Nations match against Italy on Sunday, 10 March.
The aim was to make a radio documentary that shone a light on the workings of an international outfit in Test week.
The results can be heard tonight on Radio 5 live Sport on Tuesday from 19:30 GMT: "Inside Lancaster's England."
It was a fascinating experience.
"It's a tightrope when you're in charge," Lancaster, who will celebrate a year in charge next week, told me.
"You want a relationship where the players are close enough that they want to play for you, but not so close that they don't know where the line is between you and them. How you inspire and motivate them in different ways, that's the trick of great coaching."
In the hour-long show, you will also find out about the pressures and responsibilities of the coaching staff, examine the chemistry between Lancaster and assistants Andy Farrell, Graham Rowntree and Mike Catt, and hear at close range the intensity and ferocity of the training sessions.
We even strapped a recording device to the scrummaging machine in an attempt to find out what goes on in the heart of an international pack.
I joined Lancaster at a 06:00 gym session as he cleared his mind for a loaded schedule. The analysts, physios and fitness trainers spelled out the challenges facing them.
"Take someone like Manu Tuilagi," physio Phil Pask explained. "He's 108kgs. If he took a short ball and ran at you, he'd run straight over the top of you and you'd fall apart at the first contact.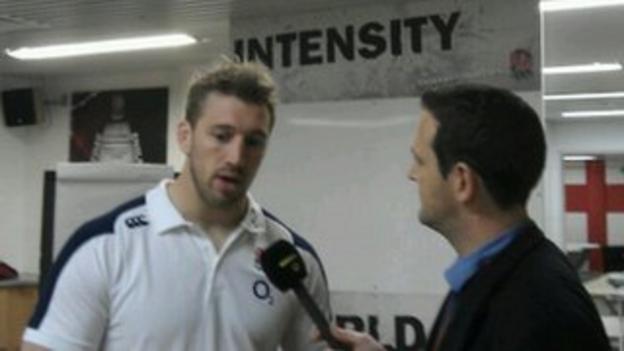 "It would take you about a week to recover, provided you didn't break something. And that's just one tackle. But the guys are conditioned to take these hits."
There was an unusual adventure into the kitchen as forwards Dylan Hartley, James Haskell and Billy Vunipola learned how to make porridge and a healthy cheesecake.
We were also granted access to Friday's team meeting, in which the coaching staff reiterated their key messages to the players, often in stark and blunt terms.
Finally, England captain Chris Robshaw talked me through the slow journey from the Twickenham dressing room to the pitch, describing the emotions, the wall of noise and the swelling pride of running out in front of 80,000 supporters.
Despite victory over Italy in the penultimate round of games, England's quest for Six Nations title ended when they were hammered 30-3 by Wales in Cardiff on Saturday.
Lancaster's players and coaches know better than anyone that they have a long way to go to reach the targets they have set themselves.
I hope this 5 live Sport documentary gives you a special insight into how they are going about it.
You can listen to "Inside Lancaster's England" on 5 live Sport from 19:30 GMT on Tuesday, 19 March.