London Welsh: Former team manager banned for life by RFU
Last updated on .From the section Rugby Union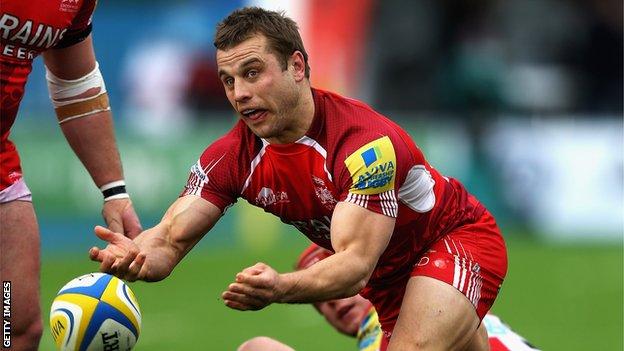 Ex-London Welsh team manager Mike Scott has been banned for life from rugby union for falsifying documents to make it appear a player was English.
The club were deducted five points and fined £15,000 on Thursday for fielding an ineligible player after selecting New Zealander Tyson Keats this season.
A separate Rugby Football Union disciplinary hearing found Scott falsified a player registration form.
London Welsh are lodging an appeal against their punishment.
Scott, who declined to appear at the hearing, accepted the allegations against him for his role in the visa-related case surrounding Keats, who played 10 Premiership games for Welsh this season.
He has also accepted a police caution for admitting fraud by false representation.
Explaining its decision against the club on Thursday, the RFU panel said that when he arrived in the UK in July 2012 after playing with Italian side Aironi, 31-year-old scrum-half Keats applied for an ancestry visa on the grounds that his maternal grandfather was born in England.
When his application was rejected, Scott submitted an RFU player registration form falsely stating that Keats had been born in Christchurch, England not Christchurch, New Zealand, lied in a telephone call by saying that Keats emigrated to New Zealand with his family when he was two years old, and then submitted a forged passport to back up his argument.
He also incorrectly told Keats's agent and London Welsh that the scrum-half had been granted an ancestry visa to play in England, and got the player to sign a blank form which Scott then filled with false information.
Scott went on sick leave in December, but emailed Welsh's director of rugby Steve Lewis to admit he had created "one almighty mess" trying to get Keats's visa "through the back door".
After he was charged under RFU Rule 5.12 with "conduct prejudicial to the interests of the Union or the Game", a statement from the organising body read that Scott was "suspended from the management, coaching or playing of rugby union and membership of any club for life".
Scott, who was previously team manager at Saracens and played a key role in Harlequins's transformation into European challengers while chief executive, has 14 days to appeal.
If an appeal is not made or is unsuccessful, he cannot apply for the order to be lifted for 10 years.
But in a written submission he insisted he would walk away from the game because he "does not wish to further stain the good name of rugby union".
For their part in the saga, Welsh now go bottom of the Premiership, two points behind Sale Sharks, and they face an uphill battle to avoid relegation in their first season of Premiership rugby.
They have only five games left - away to Gloucester, Bath and London Irish, and at home to Northampton and Worcester - and are now favourites for the drop.