Leicester Tigers say World Cup exclusion down to money
Last updated on .From the section Rugby Union
Leicester Tigers chief executive Simon Cohen says the decision to omit Welford Road from the list of possible 2015 World Cup venues was down to money.
Gloucester's Kingsholm was the only English club ground to make the initial list of 17 potential venues.
"You would like to think that rugby would reward those who invest in rugby and it has not done that in this case," Cohen told BBC East Midlands Today.
"It [the decision] says, unfortunately, money is the driving force now."
Tournament organisers England Rugby 2015 must sell 2.9 million tickets to cover the £80m guarantee owed to the International Rugby Board.
Leicester City FC's King Power Stadium, which has a capacity of 32,500, 8,500 more than Welford Road, is on the shortlist, with the list of 10 to 12 venues to be finalised early in 2013.
But the fact that English rugby's biggest club ground is not even in the running has left Tigers both confused and upset.
"It's difficult to say where disappointment creeps over into anger but certainly somewhere between the two would be fairly accurate," said Cohen.
"This is an iconic rugby stadium with a great atmosphere and it is a blow to our pride that it has not been selected.
"They [England Rugby 2015] have made comments about the size of the pitch, but the pitch has been big enough for Australia, South Africa and Argentina to be very happy playing on it, and it's big enough for Tigers to score lots of tries, so it doesn't seem to inhibit attacking and attractive rugby.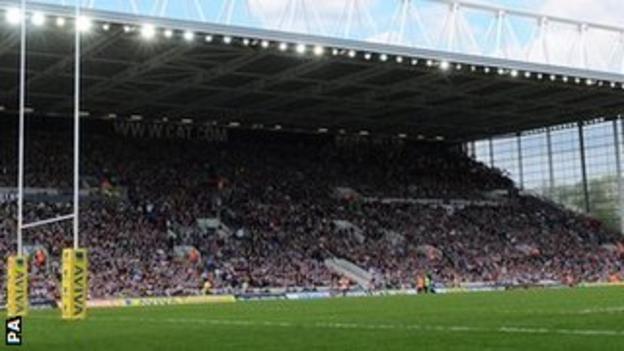 "The feedback we get from our fans is that they much prefer to watch rugby here, although of course the King Power is a very good stadium and if we are not going to get it, it would be nice to have it in Leicester.
"It's purely Welford Road and in a sense that makes it hurt even more because this is an iconic rugby ground and there has been significant investment in it and there have been some great moments here.
"Leicester Tigers players have contributed enormously to England's World Cup successes in the past and it would just be really nice for our supporters to continue that link and tradition.
"We haven't had any of the financial details so we don't know whether it would have cost us money to host games or if we would have made money from it. This was purely about the rugby at this stage."