Redruth edged out by Worthing in National Two South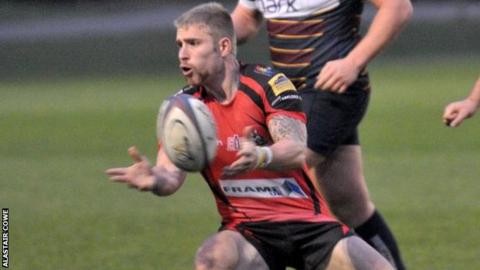 Redruth secretary Roger Watson says his side probably deserved not to come away from Worthing with a win after they were edged out 27-26.
Both teams had a man sent off as the Reds lost for the first time in National Two South this season.
Watson told BBC Radio Cornwall: "If you look at it dispassionately I think Worthing were probably a point better."
"They did enough to edge it because they looked very good and their tires were well taken."
Matthew Miles' try gave Worthing a second-minute lead before Tom Blackburn levelled the scores seven minutes later.
Paul Thirlby's penalty put the Reds 10-7 ahead before a second penalty extended the lead.
Rob Smith's try on 33 minutes put Worthing ahead by a point before Darren Jacques got an unconverted try right on half-time to send the Reds into the break 18-14 up.
Two Matthew McLean penalties saw Worthing take the lead before each side had a player sent off.
A dangerous tackle on Redruth scrum-half Greg Goodfellow saw Joe Burns get sent off, but the Reds number nine was also red-carded for his retaliation to the challenge.
Kiba Richards got the try which proved to be the winner with 16 minutes to go, despite Darren Jacques getting his second soon after and Lewis Vinnicombe and Jacques were held up just short of the line in the dying seconds of the match.
"Perhaps it was a harsh decision to red card Greg Goodfellow," Watson told
"He did retaliate but it was a nasty spear tackle and I'm not sure what will happen when people see the video, that might be a story that has more legs in it yet.
"It was a good performance from Redruth and the players I spoke to were so down and disappointed.
"This was a game they fancied they could win, they came close, but couldn't quite do enough on the day."