Courtney Lawes relieved by Northampton Saints return
Last updated on .From the section Rugby Union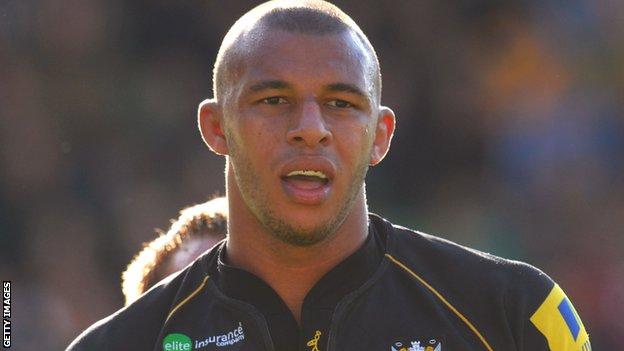 Northampton Saints flanker Courtney Lawes says he is pleased to be back in the Saints line-up after a series of injuries - and he has gained weight to add power to his hits.
Lawes told BBC Radio Northampton: "It was frustrating at times.
"But I'm well integrated into the team and it doesn't take much for me to switch [and] play cohesively."
"Injuries are part of rugby and you have to accept it," added Lawes, who also had a knee injury earlier in the year.
His shin injury kept him out of action for three months and almost immediately after returning to training, he dislocated his elbow in training to rule him out for a further few months.
And now he has returned to the Saints team with extra weight.
"I have to eat a lot to stay bigger and I try to put on weight when I'm injured," he said.
"I've put on a stone but that's intentional. A bit of extra weight goes a long way in rugby as long as you can carry it well.
"I didn't even catch Andy Goode [against Worcester] right and it helps to have an extra stone when you're flying into people and people are flying into you at the same time."
Lawes also revealed he is in competition with Samu Manoa for the most big tackles this season.
"I very much enjoy playing with Samu and we've started off a bit of a competition to see who can make the most hits in a game," said Lawes.
"We'll see what happens this Friday night [against Wasps] and I'm sure it'll be fun."
Lawes, who has 14 England caps, is looking to force his way back into Stuart Lancaster's plans ahead of the autumn internationals.
"If I play well here and get game-time and do all the things Jim Mallinder and Dorian West expect me to, I'm sure I'll be fine going into internationals," he said.