Jeremy Guscott Q&A

By Jeremy Guscott
Rugby union analyst, BBC Sport
Last updated on .From the section Rugby Union25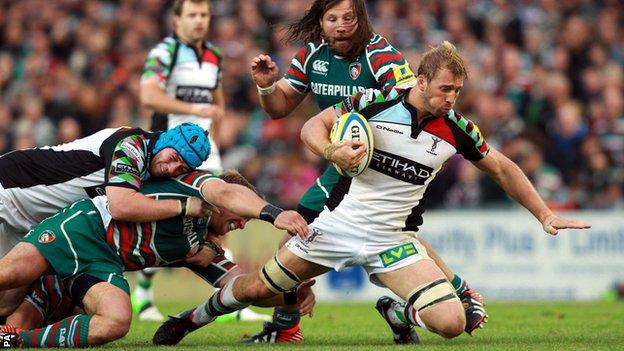 Among the topics Jerry discusses this week are:
- The chances of Harlequins and the Welsh regions in the Heineken Cup
- Sale's poor start to the season
- London Welsh's chances of survival
- Potential picks for the Lions squad
If you have a question for Jerry, on any topic, post it in the comments section at the bottom of the page. He will answer as many as possible but not every question submitted can be used.
The Quins are once again looking strong in the Premiership this season, particularly with the backs, but do you think their squad has the balance and depth to make an impact in the Heineken Cup this season? (SimonB)
Hi Simon, it's all about keeping your best players fit and healthy for the big matches and it's important for Quins to kick on from winning the Premiership last season. Quins don't have a particularly hard group but will remember how they messed it up against Connacht last season and I don't think they will do that again. Having beaten Toulouse last season, they will fancy their chances against anyone in the knockout stages but clearly it's easier to play those big games at home with a fit squad to select from.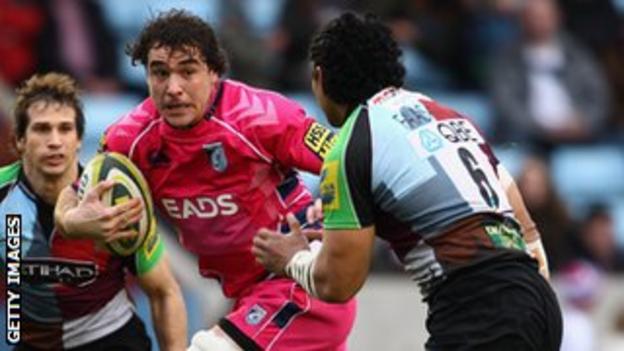 Jerry, how do you see the Welsh sides performing in the Heineken Cup this season, given their self-imposed salary cap and subsequent loss of talent to England and France? (Monkey Told Me To Do It)
The Heineken Cup has not proved a happy hunting ground for any of the Welsh clubs over the last few years and nothing has improved to make me think a Welsh club will win it this time round. Scarlets look the strongest region but have a really hard group and won't be favourites to get past Clermont and Leinster. Cardiff have the easiest group of the Welsh regions and will fancy their chances.
Despite all the expectation around Sale this summer, they have consistently failed to deliver. What do you think is wrong with the side, and how can it be resolved? Will they recover in time or face another relegation battle like previous seasons? (Alex, Manchester)
Hi Alex, I believe there's too much quality in the team for them to be in a relegation battle. I can only think the players and coaches are under too much pressure to be winning all their games and the expectation is affecting their performances. The more they lose, the bigger the pressure. Bryan Redpath has to find a way of relaxing his players - telling them their performances are unacceptable is not going to help. They lack ready-made leaders, so the likes of Richie Gray have to start leading by example.
Hi Jeremy, with two wins in a row now for new boys London Welsh, do you think that they have a genuine chance of staying up? And if you do, who do you think will be relegated instead? (Genorious)
Hi G, London Welsh have exceeded my expectation winning those two games and it's great for the competition that they've achieved that so far. However, they are still my favourites to be relegated.
Hi Jerry, George North is in great form this season. He must now be the best wing in the northern hemisphere, if not the world. How certain is he of a place on the Lions tour next year, who is his closest rival for the wing berth and how far away behind North is that player in terms of quality.
A fit George North is without doubt a class player, but he is still a work in progress. If the Lions team was picked today he would be in it but it's not so he will have to make it to the end of season in form, fit and healthy. Not many players are ever guaranteed a Lions Test spot before the team leaves these shores and George is no different.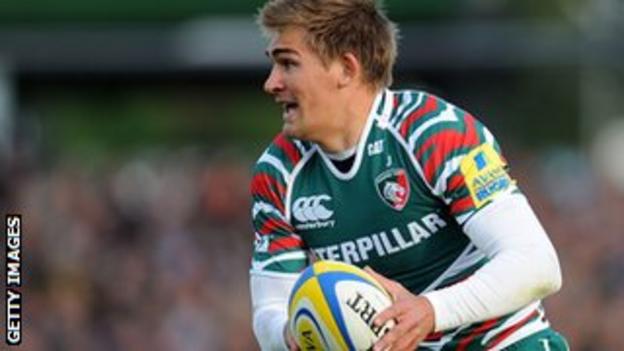 Hi Jerry, having been to both Wembley and Welford Road, I think Leicester will again come up short in Europe and at home. My worry is we don't have a strong captain any more that can influence the big games. Against Quins, Danny Care, Chris Robshaw and Nick Easter were all very vocal for their team. Whilst we still have good players, I don't see a standout leader. Thoughts? (Frustrated Jack)
Hi Jack, don't worry too much about your team. The Tigers have a habit of sorting things out and there's certainly enough senior players to lead them well. You have to understand that Tigers don't have the threats that other big teams in Europe do. They have always relied on a very strong collective approach. Players like Dan Cole and Toby Flood have got to pull the team along and show strong leadership qualities.
Hi Jerry, I was wondering who you would select instead of Ben Foden in the England squad for the autumn internationals? Also Freddy Burns is the in-form English fly-half, how far do you think he is off England selection? (The Gloucester Boy)
Hi GB, I would pick Mike Brown ahead of Alex Goode and Nick Abendanon. I thought he did a good job against the Boks in the summer and would have kept his place but for injury. Freddie Burns is playing well, and if he has a couple more games showing he can boss the game as well as he has been doing then he will be in with a shout in future. He would need to absolutely dominate games to push pass Flood. I would pick him now before Owen Farrell if he had Farrell's temperament.
On Scrum V, Sean Holley said that due to a lack of natural open-side flankers in Britain there would be a possibility that Warren Gatland would pick both Sam Warburton and Justin Tipuric for the Lions next summer. His reasons I would have to agree with. Do you?
I would agree. In the games Tipuric has played for Wales instead of Warburton, he has proven himself and done well.
With talk of having some of England's World Cup games away from Twickenham, do you think that one of the four November games should always be staged in northern England (alternating east and west). Also, do you think the Saxons should play one game in the south west and one in the midlands during the Six Nations? (Paul)
Hi Paul, it's difficult for England to play away from Twickenham because it's been home for many years and there's the financial element to it. Other countries, particularly southern hemisphere teams, have a rotation of grounds that they play their Tests at but England never has. Personally I would want to play all the tier one teams at Twickenham while the countries in the lower tiers all want to play at the home of English rugby, so it's not easy. Saxons do play games at a number of Premiership grounds.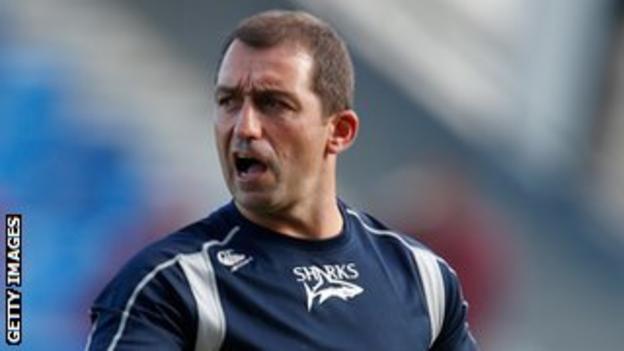 Surely you have to question Bryan Redpath's credentials as a coach. The manner in which he left Gloucester last season was appalling and this season he looks to have turned a Heineken Cup side into relegation candidates. (TS Tipster)
Hi TS, there's no doubt that Redpath will have to turn his team's fortunes around. It is early days and there is no need to panic just yet. See where Sale are at the halfway stage after 11 games and, if they're still bottom of the league, then he will have to think very hard about his position.
Any idea why England still fail to pick James Simpson-Daniel? Surely his individual try on Saturday must put him in the mix, despite his age. (CChanuk)
Hi CC, Stuart Lancaster has set out his plans and ideas and they don't seem to feature many players aged 30 and over.
Jerry, how easy do you think it is to cross codes from league to union or visa versa? Kyle Eastmond has had a good start for Bath this year but I've been less impressed with Joel Tomkins, who hasn't really set the world on fire at Sarries. (TheLastKingofEngland)
Hi, it's all about the individual adapting, understanding and working hard to make the transition either way. All the players that have changed have had the potential, but for different reasons it has worked or not worked. The player has to connect with the new game, not start from scratch because they have a certain amount of talent. I think it's harder to go from league to union because of all the rules and certain union positions are less technical than others. Wing is easier than centre and that's probably why Tomkins has been slower to adapt than Eastmond. The style the team you play for also affects the way you adapt.
Jerry, Olly Barkley's move to Racing Metro was a bolt from the blue. Do you think this will shake Bath so badly that we can expect a significant drop in their standings in the table? And does this mean that Exeter Chiefs might finally beat their bogey team as a result? (Bruce Almighty)
Hi, if you're a Bath supporter you have to believe the management know what they are doing otherwise they might have just made the biggest mistake they could make by letting a player under contract leave. It's a case of wait and see I'm afraid.