Danny Cipriani on life at Sale, Twitter and tattoos
Last updated on .From the section Rugby Union46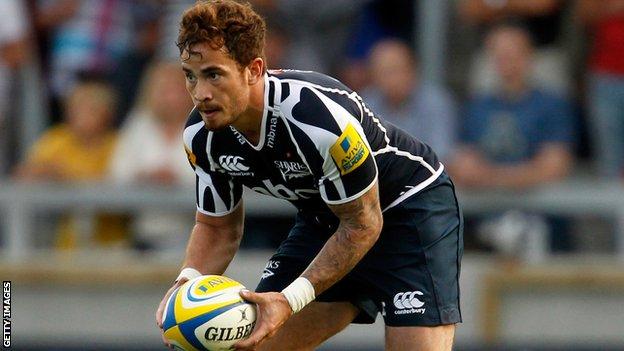 The recently completed tattoo covering Danny Cipriani's left arm is an incredibly ornate collage of birds, flowers, dates and words of wisdom.
"A lot of thought went into it and each bit is personal to me and my life," the 24-year-old says. "It means a lot to me. It took a lot of time but it was worth it."
His upper arm sports the letters TLM and number 55, the initials and squad number of his friend Tom Maynard, the Surrey cricketer who died in tragic circumstances in June. However, Sale's summer signing does not want to explain the meaning of the other images and symbols.
The tattoo is complex, creative and enigmatic, which is actually a pretty good way of describing the man himself. And that is why, despite not having won an England cap for more than two years, Cipriani is still one of the most talked about players in world rugby.
The fly-half is sitting in a room at the Sharks' Carrington training ground, the latest stop on a short but already eventful rugby journey.
He captained England under-16s and made his Wasps debut at 17. But on the eve of his international debut as a 20-year-old in 2008, he was dropped from the squad for "inappropriate behaviour" after going to a nightclub.
After eventually making his debut, suffering a serious ankle injury and an underwhelming comeback for England in autumn 2008, he was dropped again. Then he moved to Australia in late 2010, where he faced further disciplinary problems before returning to England to join Sale in 2012.
On the pitch, things have not gone to plan so far for both the club and their big-name signing. Sale have lost their opening three matches in the Aviva Premiership and Cipriani's form has been far from vintage.
He describes his performances as nothing better than "all right", although Sale's director of rugby Bryan Redpath says he has hardly been helped by a lack of good ball and underperforming pack.
"I'm really enjoying it at the club, because we've got a great bunch of guys and everyone gets on easily," Cipriani explains. "I just need some more game-time under my belt.
"I've only started two games with these guys and everyone is still trying to work out how we all play. But there have been improvements in each game."
Next up is a home game against newly promoted London Welsh on Friday. If the first three fixtures against Exeter, Saracens and Harlequins were always going to be a tall order for Sale, this is regarded as a must-win by Redpath and his players.
Away from the field, former Wasps fly-half Cipriani is enjoying life in Manchester. "It's a great part of the world," he says. "It's nice to be able to hang out with my mates and not have as much attention as there is down south.
"Manchester is quite a small city compared to London and I enjoy that. Everything I need seems to be within a blanket throw, within walking distance."
He has been living with a friend since moving to the city in the summer, but is now looking for a place of his own. "I'm looking at a couple of areas, like Hale, Didsbury, maybe the city, I'll know more soon."
It's one o'clock and training has finished, so how will he spend the rest of his day? "I spend most of my time with my friends and I might go to the cinema or just chill out and relax. And I'll talk to my Twitter friends."
Cipriani is a prolific tweeter, with 232,000 followers at the time of writing. Why does he like it so much?
"It's good fun," says the former Wasps and Melbourne Rebels player, who has seven England caps. "Eighty to 90% of people on there are positive and just want a good chat.
"I enjoy interacting with them. You can say what you want and I'm pretty honest. A lot of young players ask questions and it's always nice to help them. You get some eggheads, but it's all right."
Cipriani describes himself as "frequently misunderstood" in his Twitter profile. He has certainly been tabloid fodder, what with being dropped by then England coach Brian Ashton for going out before a match, being knocked out at Wasps training by team-mate Josh Lewsey, swiping a bottle of vodka from behind a Melbourne bar and, of course, dating the model Kelly Brook for two years.
"I probably haven't helped myself in some situations," he admits, "but it's frustrating when people read and believe whatever they see.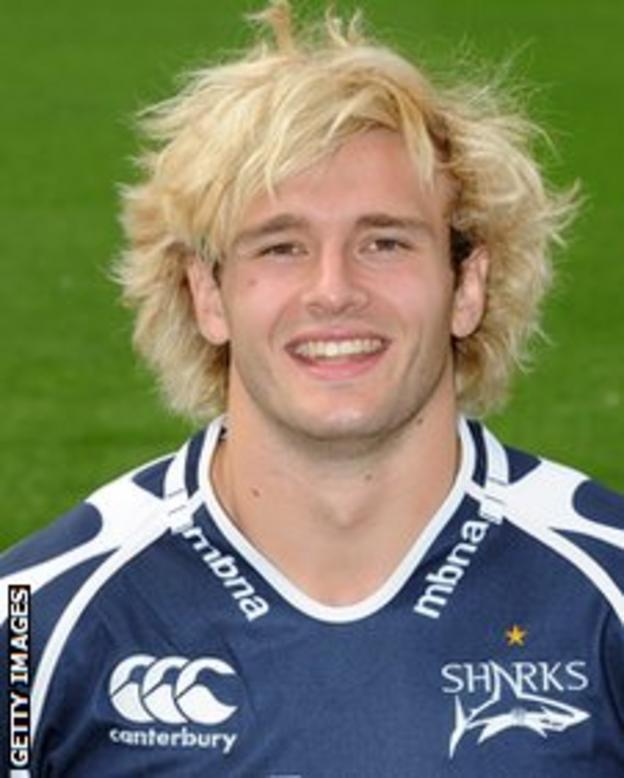 "You can read stories and take them at face value, but you'll never truly know what someone was thinking or what the full situation was. When I see stories, I now automatically think 'how much of that is true?'
"Sometimes minor stories get focused on when they're not really that important. For example that handshake issue [between John Terry and Anton Ferdinand], it became such a big deal. It was actually a really good game [between QPR and Chelsea], but no-one really remembers that.
"After the Olympics hopefully that will change a bit. The press were so positive and so good, so I hope we can keep trying to describe sport in the best way."
Cipriani joined Sale because of their ambition to become a big story in the North West. They have moved to the new Salford City Stadium, have a new director of rugby in Redpath and recently recruited Scotland lock Richie Gray, one of the most coveted young players in European rugby.
"I was so impressed by the vision of where the club is going and what they are trying to achieve. There's a goal of growing the club over the next three years."
He admits that playing for England again or returning down under with the Lions next summer would be a dream, but he does not dare think of anything other than his next game for Sale.
And he wants to be making headlines for his rugby again. "I only want attention for the sport, you know."