European rugby dispute: 'Productive' talks held over TV deal
Last updated on .From the section Rugby Union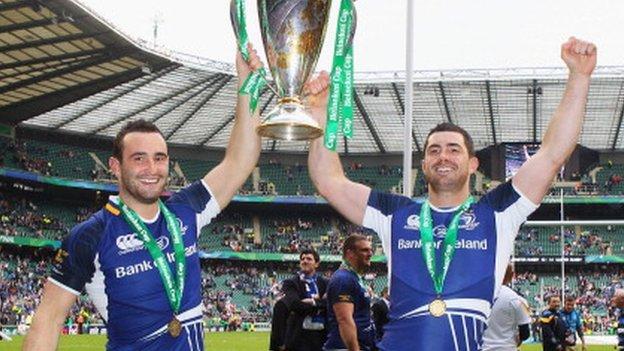 A meeting to discuss the future of European competition has been described as "productive" by the body charged with governing the Heineken Cup and Amlin Challenge Cup.
Stakeholders of European Rugby Cup met with the Rugby Football Union and Premier Rugby in Dublin on Tuesday.
Further discussions for a new agreement on the future of European club rugby will be held in Rome on 8 October.
ERC is in dispute with Premier Rugby over a £152m TV deal with BT Vision.
Premier Rugby, which represents England's top 12 clubs, is accused by ERC of exceeding its powers by selling European rights to new channel BT Vision for three years from 2014.
The deal covers Premiership games from next season as well as a three-year agreement for the channel to show live European matches involving leading English clubs in the Heineken Cup.
ERC, which has struck its own deal with BSkyB to show exclusive coverage of European games until 2018, says only it has the right to negotiate European TV deals on member clubs' behalf.
But Premier Rugby has claimed it has the freedom to manage its own deal for the 2014-15 season onwards.
Representatives from all three organisations met on Tuesday and an ERC statement said there would be "limited comment" from the stakeholders as they bid to create "a positive outcome for European club competitions".
"The meeting included productive discussions regarding the future of the club game in Europe with a general resolve among all stakeholders to reach agreement towards a new Accord," the statement read.