British & Irish Lions coach Warren Gatland wants Scots in team

By John Beattie
BBC Scotland
Last updated on .From the section Rugby Union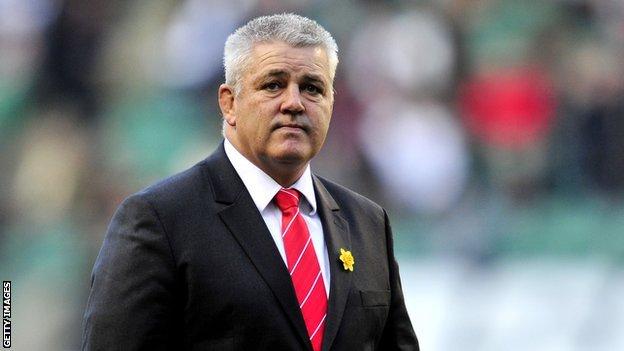 British & Irish Lions head coach Warren Gatland says he would ideally select players from all four home nations for next year's Australian tour.
Only two Scots made the 2009 tour of South Africa, but Gatland feels several are in contention this time around.
"Everyone is talking about Richie Gray and Kellock; Denton had a good Six Nations, and you have the experience of John Barclay and Ross Rennie."
"I think there is some real quality," said Gatland.
The Scottish representation has been disappointing on recent tours, but Gatland says several players have a good chance of making his squad.
"I think it's important that we have a representation from the four nations and I think that gives a good balance to the team," he said.
"I've been pleased with the way that Ross Ford has started this season which is good. I thought his leadership was excellent last season, and Stuart Hogg as well, he's exciting.
"The important thing for those Scottish players is that when they put that blue jersey on they play well and are hopefully successful."
Gatland, who will hand his Wales coaching duties over to caretaker Rob Howley, feels Scotland have lacked a creative influence to unlock defences in recent years, but thinks Max Evans could possibly provide that spark for Andy Robinson's team - and the Lions.
"Every team needs players with the X-factor, they make the difference," Gatland commented.
"They can change the game or make something out of nothing, and perhaps Scotland have lacked that little bit of x-factor.
"If you are looking at the back-line, I've been very impressed in the last year or so with Max Evans. He's played in the centre but I thought he looked pretty sharp on the wing.
"There's a couple of youngsters coming through as well who are pretty exciting also."
The 2013 tour to Australia is set to be the most high-profile tour in Lions history, and Gatland is adamant his squad will not make the same mistakes that England did during their troubled World Cup campaign in 2011.
"I think we're all reflective of what happened with England at the World Cup. I think some of it was obviously brought on by themselves in terms of perhaps ill-discipline.
"But then you've got to be aware that sometimes there's a campaign out there or people looking for stories, and just be aware of that."
Gatland said that any players who fall foul of his disciplinary rules will be sent home from the tour.
"It's important that, off the field, we portray that air of being in control and being disciplined and, before we go out there, making sure the players are totally aware that these are the expectations, but also these are the consequences if you step out of line," he added.
Listen to the full interview between John Beattie and Warren Gatland on BBC Radio Scotland's Sport Nation on Saturday 15 September from 11:00 BST.