London Wasps: Ken Moss consortium completes takeover
Last updated on .From the section Rugby Union17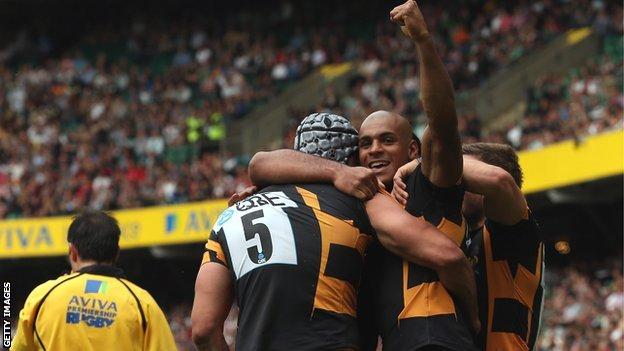 London Wasps have announced that a consortium including ex-player Ken Moss has finalised its takeover.
And after contracts were exchanged in June, the consortium has purchased Hayes' shares to take full ownership.
A new board of directors are to be put in place, but Mark Rigby will continue in his role as Wasps' chairman.
The takeover of the five-time English champions had been expected to be completed in mid-July, shortly after the exchange of contracts between the two parties.
However, a number of financial stumbling blocks meant that a finalised deal for the Adams Park side was delayed until Friday's announcement.
Rigby told the club website: "We are delighted to confirm the completion of the sale process following the agreement of terms in recent months.
"It has undoubtedly been a lengthy process and there have been some complex financial issues involved, but we are pleased that the situation finally has been resolved."
Under the new owners, the club will continue to share Adams Park with Wycombe Wanderers, the football club that Hayes also owned until June this year, for the foreseeable future.
However, the consortium has previously shown a desire to transform the structure of the Premiership side, which includes the development of a new stadium for the club.
The ownership of the former Heineken Cup winners had been in doubt when Hayes announced his intention to sell, after plans to build a new stadium were rejected by Buckinghamshire Council.
Off-the-field uncertainties reflected in the performance level on the pitch, and the club faced the possibility of relegation last season.
However, avoiding defeat by 24 points against Newcastle on the final day (irrespective of their losing bonus point) ensured it was the Falcons who dropped into the Premiership.
Following news of the takeover's completion, Rigby sought to praise out-going owner Hayes for his three-year guidance of Wasps.
"I would like to thank Steve for his financial support over the last few years which shouldn't be underestimated," he said.
"Under his ownership, the club sought to be innovative off the pitch with the development of the St George's Day brand and in taking the first English domestic competitive game overseas."