'Nuclear' Heineken Cup TV row saddens Gareth Davies
Last updated on .From the section Rugby Union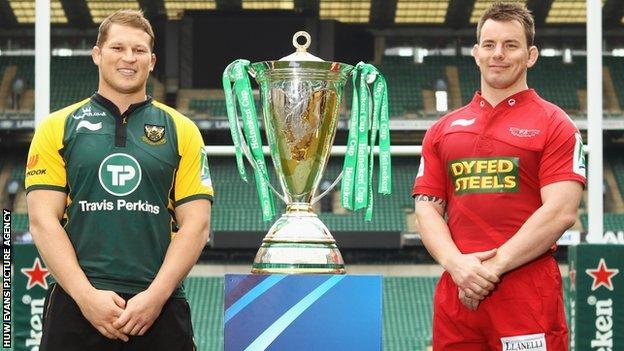 Former Cardiff boss Gareth Davies says England's leading clubs have pressed the "nuclear button" by doing a controversial European Cup TV deal.
BT has announced it has won the rights to broadcast European matches hosted by English clubs from 2014.
But European Rugby Cup (ERC) says it has already given exclusive coverage of European matches to rival BSkyB.
Davies said Premier Rugby's approach is "antagonistic", adding: "The nuclear button has sort of been pressed again."
Former Wales and British and Irish Lions fly-half Davies was Cardiff RFC chief executive during the 1998-99 "rebel" season when they and Swansea left Welsh rugby to play England's leading clubs.
It was also the season in which neither the rebel Welsh duo and their English counterparts played in Europe.
Again, rows between rugby's ruling bodies and clubs over funding were at the heart of the issue.
Davies says that dispute cannot be compared in scale to events that led to the Premier Rugby deal with BT, involving £152m over three seasons.
There has been long-running tension between Heineken Cup organisers ERC and English and French clubs, who have announced they will pull out of ERC once the current agreement governing their participation runs out at the end of the 2013-14 season.
This effectively means they are withdrawing from the Heineken Cup after the 2014 final, although the planned move has been seen as a negotiating tactic.
This is because both the French and English clubs want changes to the way European rugby union's blue riband club tournament, in which Irish province Leinster are the current champions, is run.
They want a new system that would reduce the number of RaboDirect Pro12 teams that qualify for the Heineken Cup, removing the current guarantee that leads to Scotland, Ireland, Wales and Italy all being ensured representation.
Davies said: "It's almost turning the clock back 14-15 years ago after the onset of professionalism… and I thought we were past that stage.
"It sounds as if it's more than sabre-rattling, really, because we're actually talking about deals having been signed with big organisations such as BT.
"I was quite heavily embroiled many years ago - it was a different scenario then because clubs themselves weren't actually receiving any benefit from TV competitions they were competing in.
"But I thought things had settled down.
"Obviously we've heard over the last couple of weeks that England and France are not happy with the composition and the make-up of the Heineken competition and how many clubs from each country are allowed to play etc.
"But I must admit I was quite surprised that they've taken this, what can be described politely as a very antagonistic approach.
"I think this is on a far bigger scale to the matter many years ago... obviously, endangering what is now, outside the Rugby World Cup, probably one of the most exciting competitions in world rugby."
Davies hopes the dispute can be resolved and called on the International Rugby Board to act.
"The IRB really needs to obviously, to show some leadership in this as well because ultimately they are the game's world governing body," he said.