Welsh regions caught in the crossfire of European TV row
By Gareth Charles
BBC Sport Wales rugby correspondent
Last updated on .From the section Rugby Union137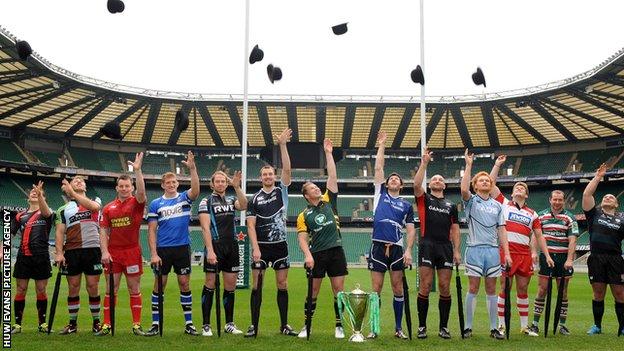 There's no doubt European club rugby is at a major crossroads, and as the English and French clubs look to flex their muscles, the Welsh regions are among those caught in the crossfire.
The current agreement covering the Heineken Cup and the Amlin Challenge Trophy ends at the close of the 2013-14 season, and even before the bombshell announcment of a rival TV deal, the French and English clubs had already served notice they no longer wanted to be part of the current set-up.
So what's brought us here and where do we go next?
European Rugby Cup (ERC) - the body which organises the Heineken Cup - takes the view: "If it ain't broke why fix it?" It says the competition's been going from strength to strength in its 17-season existence - in terms of quality of rugby, fans watching, TV viewers and commercially.
ERC see it as a truly pan-European tournament with representatives from Wales, England, Ireland, Scotland, France and Italy which has won its place as one of the major tournaments in world rugby.
But there have been growing rumbles of discontent that things could be improved, and changes are long overdue.
So what are the beefs of the English and the French? They dominated the early years of the competition winning nine of the first 10 Heineken Cups, but have won just two of the last seven with Leinster and Munster sharing the other five.
They say the Celtic countries are getting a far easier ride with guaranteed places for all countries' teams regardless of where they finish in the league.
With no relegation, English and French clubs say RaboDirect Pro12 are not under the same pressure to perform on two gruelling fronts.
Consequently, they want the Heineken Cup cut from 24 to 20. So there would be six from the Aviva Premiership, six from the French Top 14 and the top six from the Pro12- and if that means three Irish and three Welsh or four Irish and two Scottish and no Welsh or Italian, so be it.
Added to that would be the winners of the previous year's Heineken and Amlin competitions.
To run alongside this, they want the Amlin Trophy and a third tier competition involving teams from emerging countries such as Spain, Portugal, Russia, Georgia etc.
Premier Rugby, which advises English clubs, doesn't think their full commercial value is being reached and, having been granted permission by England's Rugby Football Union five years ago to negotiate their own broadcast rights, they've gone ahead and done just that.
Some might say it's the petulant schoolboy not so much saying "It's my ball and I'm taking it home!" but "I AM going to play somewhere else and if you want to join me there's a bloke over there with a brand new ball for us!"
Two TV companies claim exclusive rights - but for what, heaven only knows.
Would first division English clubs and second division French clubs replace their premier counterparts, for the time being at least? And would that interest the broadcasters?
Will the Welsh, Irish, Scots and Italians be tempted by what is undoubtedly a lucrative deal?
If not - would the International Rugby Board sanction a standalone Anglo-French competition? Is it brinkmanship in the extreme, in order to force the ERC to move on the Heineken Cup format? Is there any room to manoeuvre a compromise with all parties involved, saving face?
With so many questions to be answered as the ERC stakeholders meet in Dublin next Tuesday, it seems more of a spaghetti junction than a crossroads.