Dean Richards wants Newcastle Falcons to maintain intensity
Last updated on .From the section Rugby Union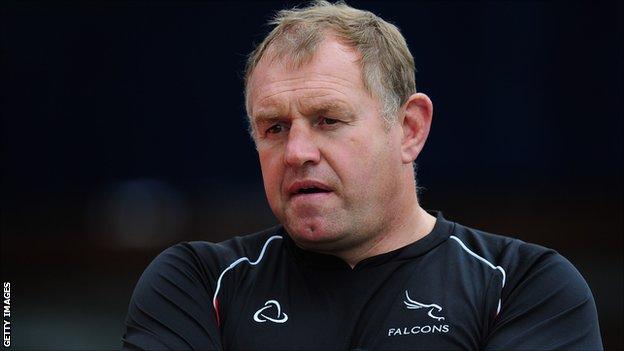 Director of rugby Dean Richards says Newcastle Falcons must maintain their intensity in games to avoid slip-ups in the 2013 Championship.
Falcons have won both of their opening fixtures, with a maximum 10 points, but conceded five tries so far.
"There's no room for complacency in the Premiership, or any level higher," Richards told BBC Newcastle.
"The fact there was some last week really irked a lot of the boys as well as the coaches, you strive for better."
Richards added: "The intensity is far greater than people give the Championship credit for, the way London Scottish kept coming at us in the second half when we took our foot off the gas shows there is intensity there.
"Sometimes it isn't there for 80 minutes, but it is there and you have to acknowledge it and take it in.
"I think it surprised a couple of the players but at the same time I think we should be able to cope with it and play with our own intensity which will combat that as well."
Newcastle currently top the Championship after two games, a bright start for the club who finished bottom of the pile in the top flight last term.
However the 49-year-old Richards, who guided Harlequins to promotion from the division in 2006, is aware that a season of success can be eclipsed by a poor showing in the play-offs come May.
"It's about getting the job done, but also with one eye on the play-offs at the end, we know what we have to do to get there, it'll be a lot of hard work.
"It sounds awful, but in some ways what goes on before then is irrelevant, but it isn't irrelevant because it's about setting standards, and getting a style going.
"Ultimately when we come down to the end of the season everything hinges not on your consistency and form throughout the year, but on four games, and it may hinge on just one game.
"I shouldn't say that it can't come quick enough, because there are a lot of good sides in the Premiership who on the day can upset the apple cart."