London Welsh boss excited by new BT TV deal
Last updated on .From the section Rugby Union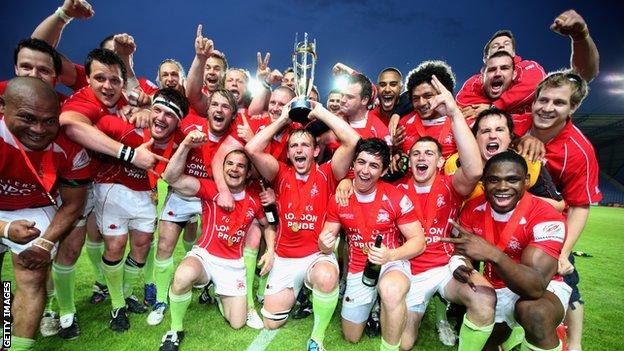 London Welsh managing director John Taylor says the new broadcasting deal between BT and Premiership Rugby could be worth £1m extra per season to them.
"It's a huge amount of money and looks an incredibly attractive package," Taylor told BBC Radio Oxford.
"Working it out one way it could be as much as £1m per season per club."
From the 2013-14 season, BT will have exclusive live broadcast rights to the Premiership and the JP Morgan Asset Management Sevens.
From 2014-15 it will also have the exclusive rights to matches played by Premiership clubs in any future European competitions, for three years.
"We don't need any more incentive because the funding and the sponsorship and the business surrounding the Premiership is so much greater than the Championship," Taylor said.
"Because rugby clubs are smaller than football clubs, what division you are in could be the difference between clubs making a profit or not."
Live Premiership matches are currently split between BSkyB and ESPN, and under the new agreement, BT will have live broadcast rights to up to 69 matches a season.
As well as showing the live games, BT will assist clubs in upgrading the technical infrastructure at their stadia.
"The Kassam is pretty well equipped," added Taylor.
"But the way technology is moving on, there are new things all the time and certainly a lot stadia would see that as a an enormous attraction.
"To have a partner on board who is at the cutting edge of these things is hugely important because these things cost a huge amount of money."
Welsh are still without their first win this season, and face Exeter at the weekend.
"The players are very determined to get that first win but Exeter are no pushovers, they have been our inspiration as they only got promoted a couple of years ago," he said.
"They are a really strong club now and what we have to do is follow their example and stay in the Premiership."