Setaimata Sa move to London Irish from Catalan Dragons delayed
Last updated on .From the section Rugby Union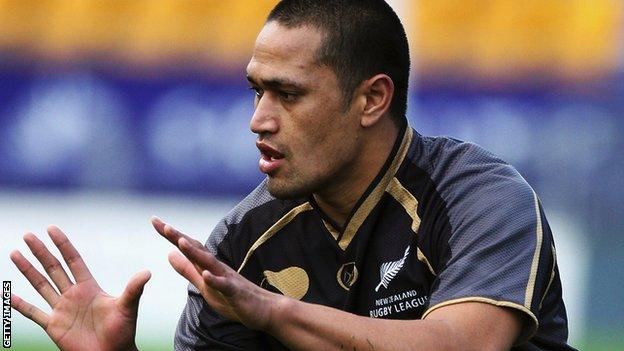 London Irish director of rugby Brian Smith says Setaimata Sa's arrival from Super League club Catalan Dragons could now be delayed until next season.
But Smith says he still expects Sa to join the Premiership club.
"There are some issues that we are going to be able to control and some we aren't," Smith told BBC Berkshire.
Samoan-born Sa can play as a line-breaking centre or a back-rower and moved to Catalan Dragons from Sydney Roosters in 2009.
"He has his commitments with the Catalan Dragons until November," added Smith.
"We weren't expecting him until December at any rate. There are one of two complications in terms of new government regulations that have turned things on their head over the past six months or so.
"We are working our way through those and when we have a bit more clarity we will let you know whether we have problems.
"He was not due to arrive for another six weeks, we are cracking on with the players we've got.
"We've got immense respect for his skills and talent and he would fit in very well here. But we need to be flexible with our thinking and make sure we've got all our bases covered."
Smith added the deal was not in danger of collapse, and was looking forward to his arrival - whenever that may be.
"I am confident it will happen," he said.
"It's just a matter of timing. Best case scenario he is here with us by Christmas, worst case scenario we jump through the new hoops and regulations and he will be with us for next year at some point.
"That could be later in the season or the start of next but I'm very confident he will be with us."