Jeremy Guscott Q&A

By Jeremy Guscott
Rugby union analyst, BBC Sport
Last updated on .From the section Rugby Union50
Among the topics Jerry discusses this week are:
- Whether Harlequins' epic 42-40 comeback win over Wasps is the best ever game in the Premiership
- What rugby league convert Joel Tomkins has to do to break into the England reckoning
- The impact of Dutch wing Tim Visser on Scottish rugby
- Why he gave the Bath v Wigan cross-code encounters a miss back in 1996
If you have a question for Jerry, on any topic, post it in the comments section at the bottom of the page. He will answer as many as possible but not every question submitted can be used. This week's answers appear below.
In Premiership history have you ever seen a greater comeback than Harlequins' effort against Wasps on Saturday? Secondly, is Wasps winger Christian Wade now a shoe-in to be the other England wing with Chris Ashton? Zippychuck
Hi Zippychuck, I don't think I have seen a better comeback, Quins certainly played their get out of jail free card. To come back from 40-13 is a tremendous piece of work but it many ways you have to be allowed to do it and Wasps did help Quins to victory, although it took a nervous kick to get them home.
Both teams were guilty of missed tackles and Quins turned the ball over a lot while Wasps gave away twice as many penalties as Quins.
It's still very early to start picking the other wing to play alongside Ashton but Wade certainly hasn't done himself any harm with that performance and those two tries.
Do you think the Wasps vs Quins game is one of the best matches in the history of the Premiership? Cool calm and calculated
Hi CCC, for the neutral possibly, but if you're a Wasps supporter you won't want to watch it again in a hurry!
After Ashton's try scoring debut for Saracens do you think he could be the signing of the season and the final piece of the Sarries jigsaw that sees them challenge domestically and in Europe this season? Also what are your thoughts on Joel Tomkins? A future England centre perhaps? Dantheman
Hi Dantheman, I believe Ashton's play would allow him to fit into most team's gameplans because he goes looking for the ball and doesn't sit on his wing waiting for the pass. Saracens will certainly win enough phase ball for him to be effective working off nine, 10, 12 or 13 - the half-backs and centres.
I'm not sure about signing of the season, but if he scores the winning try in a final then he would be! Despite Saracens' comfortable victory Tomkins was quiet, he needs to get a lot more involved both in attack and defence and start to have an impact.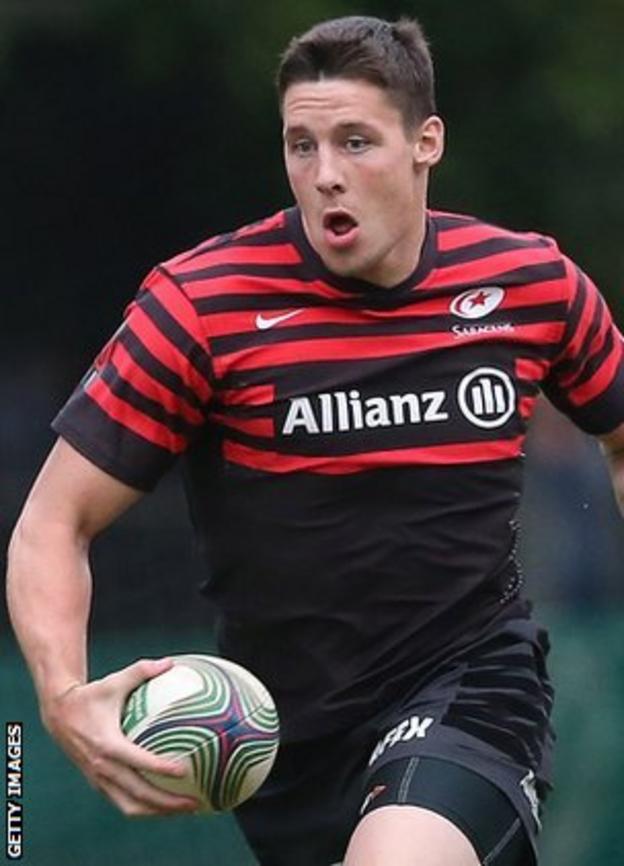 Hi Jeremy, as a world class 13 in your day I am sure you will be keeping a close eye on Tomkins' performances. What has he got to do to break into the England squad and what do the likes of Manu Tuilagi and Jonathan Joseph have to do to keep him out? Gaz
Hi Gaz, Tomkins must make an impact to get noticed - this means scoring tries, assisting in tries, off-loading in contact, making breaks and making big hits. I don't think you can just be a safe pair of hands in the centres, you have to have an impact.
Tuilagi and Joseph will continue to do what they've been doing for the last couple of seasons and look to improve. Tuilagi could be fitter and look for more work and do more of what he does best - using his explosive power. Joseph has to get his hands on the ball more and then we will see more of his talent.
Who would be in your ultimate England XV? And do any current players make the cut? Helghan Dan
Hi Helghan Dan, there are too many close calls in so many positions that it's almost impossible for me to pick my ultimate England XV, but I do know Martin Johnson would be my first pick.
This weekend was a high scoring round, do you think that will continue throughout the season? Mvasey
Hi Mvasey, while the weather is reasonably good and the grounds pretty firm underfoot I expect the games to flow. Once the rain and cold returns expect those forwards to keep possession a little longer, although the use it or lose it rule at the breakdown (the ball can only sit at the base of rucks for five seconds now) will help keep the game moving.
1. What hope do you give London Welsh to stay up? 2. Who is your pick for promotion from the Championship this year? TheLastKingofEngland
Hi LKOE, while it is early days the new team coming up from the Championship is always under immense pressure to survive and it won't be any different for Welsh. They weren't helped either by having to appeal in order to secure promotion, because not knowing the outcome would have delayed signings. They will struggle to stay up this season and will be overwhelming favourites to go down. Newcastle Falcons should come straight back up from the Championship to replace them.
This year the Ospreys have joined Leinster in making their annual woeful start to the season. Why are one of the so-called greatest club rugby sides of all time so awful every September? And do you think the Ospreys are trying to follow their example? Irecolly
Hi Irecolly, given both teams are past winners of the Pro12 it doesn't seemed to have affected them too dramatically over the years. Certainly where the domestic league is concerned it's all about position and form at the business end of the season and not so much the start, but I guess a good start would make it easier to rest players later in the campaign.
My first child was born two weeks ago. I'm English, his mother is Irish and he was born in Scotland. Obviously he's already received a trio of rugby shirts to reflect this. The big question remains: should, as expected, this 10lbs 6oz bruiser develop into a world class player, is he better deciding to play for England, Ireland or Scotland? Tommyboy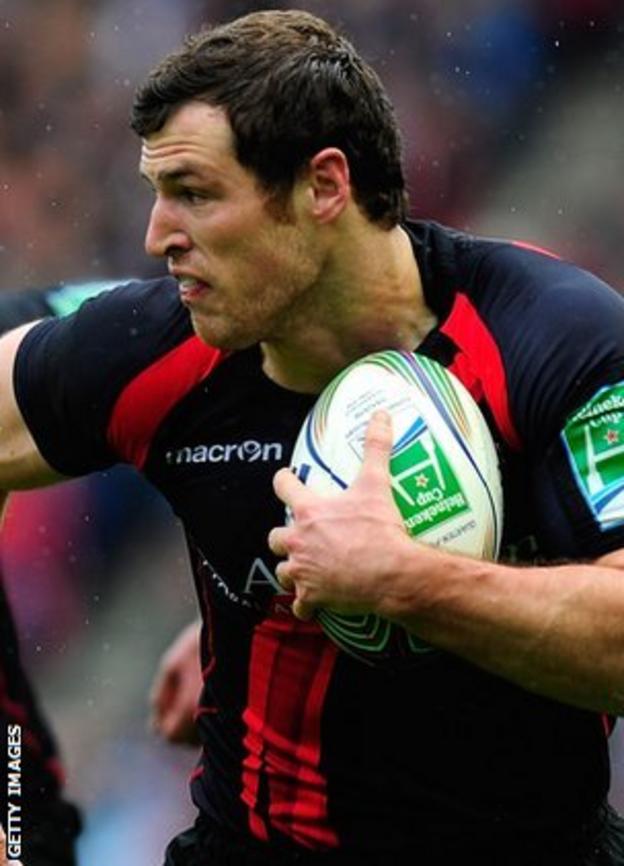 Hi Tommyboy, what an interesting situation your lad will find himself in if indeed he has to make that choice. The most recent big case where a player had to decide who to play for would involve Ben Morgan, who played most of his senior rugby in Wales and qualified for them through residency but was born in England. He chose where he was born - if your lad does the same let's hope for his sake Scotland improve.
After Tim Visser's hat-trick of tries against Munster, as well as his debut try for Scotland against Fiji, do you think he is the solution to the Scots' try scoring problems ahead of the November internationals and the Six Nations? MDM1987
Hi MDM1987, if only it was that simple! There's no doubt Visser will be a welcome addition to the Scotland team but I would be surprised if one player on the wing proves to be the missing link. Scotland's problem has been on a number of fronts, with turning over ball in crucial positions and decision making both being right up there.
What are your thoughts on the new rules regarding the Television Match Official being available for longer before a try is scored? I thought it really slowed the game down and detracted from the atmosphere at the weekend. Henry T-A
Hi Henry, I'm in favour of it and we have to give it time to bed itself in. If after a season, or less if it's determined that it's wasting time and not being effective, then because it's only a trial it can be withdrawn.
I hear people say that Tom Croft should move to the second row for England but I disagree. I believe James Haskell lacks the work rate to play flanker and some of the skills for eight, but he does have immense physicality that I think England need to make use of. Do you think he might be a better fit at lock? GM Massingbird
Hi GM, I couldn't see Tom Croft ever playing regularly for England in the second row, he doesn't have enough presence in the tight and wouldn't be effective in that position at that level. Haskell would also struggle because he's spent a lifetime conditioning himself to play in the back row and not the second row where it's a different kind of fitness and mentality that's required. At club level they could do a good job but I don't believe either of them would ever be considered seriously as a permanent four or five.
In May 1996, when playing for Bath, it was rumoured you feigned injury ahead of the cross code challenge matches versus Wigan RL. Can you dispel those rumours? Abe Frohman
Hi Abe, I didn't have an injury, I just didn't feel the games were equally balanced. If the union game had been played with the intensity of a real game there could have been some serious casualties on the Wigan team because of scrums and the tackle area in union.
The league game had no special conditions or rule changes but the union game had uncontested scrums, which I thought made the union game easier for the Wigan team. The game was a brilliant help to breaking down the barriers that existed then between union and league but it wasn't the game for me.