Gavin Henson's London Welsh signing not a publicity stunt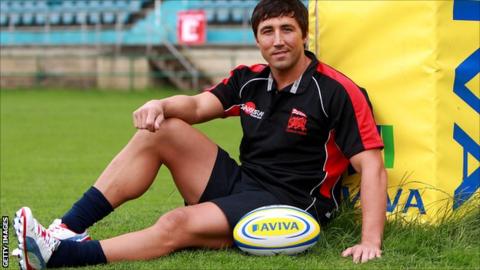 London Welsh captain Jonathan Mills has rejected suggestions they have signed Gavin Henson as a publicity stunt.
The Exiles recruited the Wales international centre, following a controversial spell at Cardiff where he was sacked for off-field misbehaviour.
Henson, 30, has been in and out of the tabloid newspapers and on reality TV, but despite his celebrity status Mills says his arrival is on sporting merit.
"Gavin wouldn't come if he didn't want to play rugby," Mills told BBC Oxford.
London Welsh are Henson's fifth team in under two years following stints at Saracens, Toulon and Cardiff Blues since leaving Ospreys in October, 2010.
He left Saracens after a short period and departed Toulon at the end of the 2010-11 season in which he had also been disciplined over an off-field incident.
He was sacked by Cardiff Blues in April for alcohol-fuelled misbehaviour during a flight on the morning after a game.
"People have said we've signed Gavin Henson as a publicity stunt. I don't think so," added Mills.
"He knows it's going to be a tough slog this season. He knows there will be times when we're up against it and he's going to have to prove himself and I'm sure he will."