British and Irish Cup competition expanded to 32 teams
Last updated on .From the section Rugby Union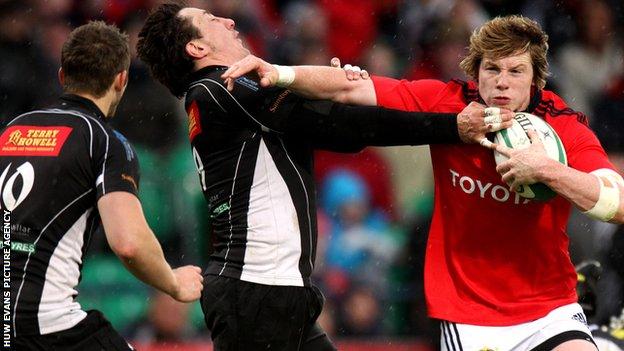 All Welsh Premiership clubs and Irish province A teams will take part in the expanded British and Irish Cup.
The cross-border competition has been increased to 32 teams with eight pools of four for the coming season.
All 12 Welsh Premier Division clubs, double the previous number, will compete along with the 12 English Championship sides.
With four Scottish clubs taking part and Connacht's A team added, the Irish and Scots have an extra team each.
Munster, who won last year's competition when it had 24 teams involved, are in Pool 7 along with Aberavon, Plymouth and Rotherham.
Last season's runners-up, Cross Keys, will face local rivals Newport, as well as Newcastle and Connacht, in Pool 4.
Welsh Premiership champions Pontypridd will have a trip to Jersey and also face Leinster and Leeds in Pool 5.
Scottish Premiership champions Melrose are in Pool 8 along with Doncaster, Llandovery and Nottingham.
There is extra Scottish interest in Pool 6, where Gala are drawn along with London Scottish in a section completed by Llanelli and Moseley.
The six pool games will be held during October, December and January.
British and Irish Cup
Pool 1: Cardiff, Bridgend, Bristol, Ulster
Pool 2: Bedford, Bedwas, Stirling County, Neath
Pool 3: Carmarthen Quins, Dundee HSFP, Cornish Pirates, Swansea
Pool 4: Connacht, Cross Keys, Newport, Newcastle
Pool 5: Jersey, Pontypridd, Leinster, Leeds
Pool 6: Gala, Llanelli, London Scottish, Moseley
Pool 7: Aberavon, Munster, Plymouth, Rotherham
Pool 8: Doncaster, Llandovery, Melrose, Nottingham