Ryan Grant urges Scotland to continue tour momentum

By Jim Mason
BBC Scotland rugby reporter
Last updated on .From the section Rugby Union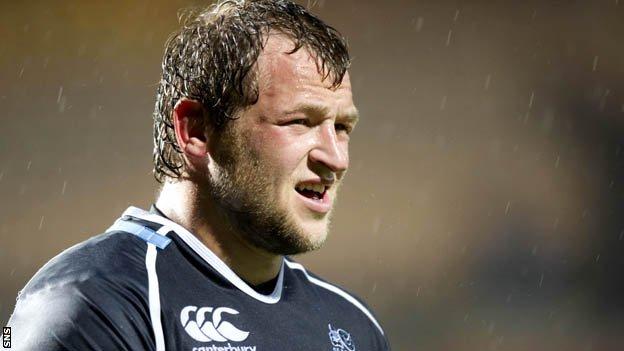 Debutant Ryan Grant has warned Scotland their victory over Australia will be worthless unless they also beat Fiji and Samoa.
But Grant says the victory will be hollow if the Scots fail to win their other summer tour matches.
"The win against Australia's no good unless we can back it up," he told BBC Scotland.
"It's a great result and everyone's on a high off the back of it, but we've still got two huge games to play.
"We've done the hard work in beating Australia and if we don't win the next two tests then it'll be for nothing.
"So, we have to front up and win those two games and win the tour."
The Glasgow Warriors prop praised the defensive performance of the Scots, who won the match courtesy of Greig Laidlaw's last-minute penalty.
"It's a great result, a win in Australia is great for Scottish rugby, so the boys are over the moon.
"Everything went to plan, and it's nice when that happens especially given the conditions that we played in. You know sometimes things don't always go to plan, but it did for us and we came away with the win.
"The tackle count was outstanding, the boys were incredible - I think big Euan made 30 tackles alone. So, the dedication was there and the boys wanted to win and it was up to us to do that."
And Grant insists he was confident of victory even as Australia pinned Scotland back for much of the second half.
"There were stages of the game where they were battering us on our line and the boys, credit to all the boys, they defended really well," he said.
"I remember a point in the game looking up at the clock and it was 73 minutes gone and 6-6 and thinking, wow, we're gonna win. I knew we were going to win even though they were pounding us.
"We were patient and we defended well and we waited for our opportunity and when it came we took it."