Rugby union bosses to trial increased powers for TMO
Last updated on .From the section Rugby Union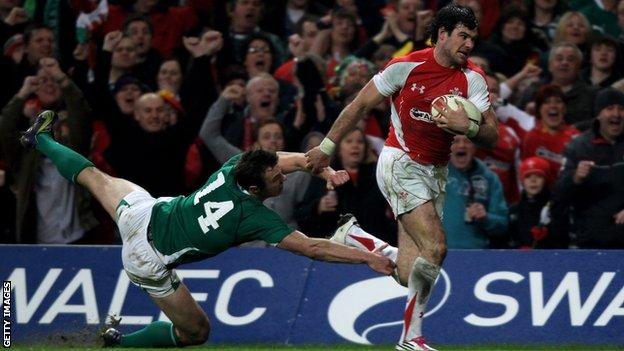 Rugby union bosses are to trial the use of Television Match Officials (TMO) ruling on incidents within the field of play, including foul play.
The International Rugby Board (IRB) has approved the global trials of amendments to five laws.
The trials extend the powers of the TMO to rule on incidents within the field of play leading to the scoring of a try and foul play on the pitch.
Previously the TMO could only be called upon to rule on the act of scoring.
The changes will be tested at an elite level and could become standard by the time of the November internationals.
The trial will also see teams restricted to five seconds to use the ball at the back of a ruck after being instructed to do so by the referee.
Players will be able to take a quick throw-in from anywhere off the pitch between the line of touch and their own goal-line, while a knock-on into touch will allow a side to choose a line-out rather than a standard scrum.
Conversions must also be taken within 90 seconds of a try and sides can have a further line-out on their own throw if there has been a technical offence at a line-out.
IRB chairman Bernard Lapasset said: "The next step is a global trial with full buy-in and which has been approved by council on the basis that the amendments can have a positive effect on the playing of the game.
"The global trials are not fait accompli. It is essential at the end of the global trial process that decisions made are in the best interest of rugby worldwide."
The November Test window will also see international sides allowed to select eight replacements, bringing them in line with domestic competition where an extra front-row substitute is named on the bench.
A further amendment, regarding the problem area of the scrum, has been referred to the specialist Scrum Steering Group.
The current 'crouch, touch, pause, engage' sequence has come in for criticism, and the group will consider a change to a 'crouch, touch, set' sequence.