Worcester consider giving Davies permission to talk to Blues
Last updated on .From the section Rugby Union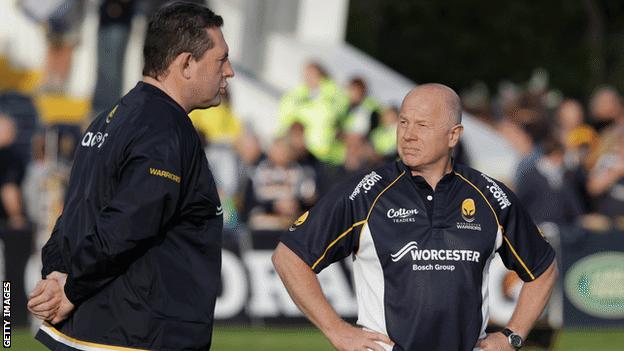 Worcester chairman Cecil Duckworth has revealed their forwards coach Phil Davies has requested permission to talk to Cardiff Blues.
Davies has emerged as favourite to fill the Blues' director of rugby role.
"We are aware that Phil has had a request and other than that we wouldn't like to comment," said Duckworth.
Davies, a former Scarlets coach, has two years left on his contract at Sixways Stadium.
Davies played a key role in the Warriors' promotion back to English rugby's top flight for the 2011-12 season.
Duckworth, the Warriors chairman, admitted he was happy to allow Davies to have discussions about a return to Wales but denied the Aviva Premiership outfit had agreed to release him from the final two years of his contract.
"It's early days and we haven't made any decisions," said Duckworth.
"Phil has done a great job for us and has been with us two years and he has another two years to go.
"We are just considering what we should do, so it's early days to make any decision whatsoever."
Davies, who won 46 international caps for Wales, led the Scarlets to their last Heineken Cup semi-final in 2007 before he was sacked the following season.
Before that, he led the Leeds Tykes from National League Three to Heineken Cup rugby and lifted the Powergen Cup at Twickenham in 2005.
Duckworth admitted Davies was interested in taking charge of the Blues and he would find it difficult to block the former Wales Under-20's coach's ambition to be a head coach.
He refused to discuss whether he would ask for compensation for losing Davies' services but admitted he had to look after the best interests of his club.
"It's early days to even talk about compensation," said Duckworth.
"He has been forwards coach under Richard Hill and he has been director of rugby at Leeds and, of course, he was involved with the Academy in Wales.
"We, in fact, did buy him out of that contract. It's interesting that he is now thinking of moving back to Wales and to Cardiff.
"We wouldn't want to stand in the way of people moving forward because he is head forwards coach at Worcester.
"But we have to look after ourselves as well because he has two years to go here. We have to think about that."
Duckworth was fulsome in his praise of Davies' work and influence at the Warriors since he arrived there as Richard Hill's assistant in 2010.
"He is a very likeable man, very able, hard-working and he has a great vision of the way we should be playing," said Duckworth.
"He works endlessly with the forwards, he is a great analyser and a great guy.
"I can see that attraction, of course, and we are mindful of that but on the other hand Worcester is our first priority, not Cardiff Blues."