Launceston assure players they will be paid
Last updated on .From the section Rugby Union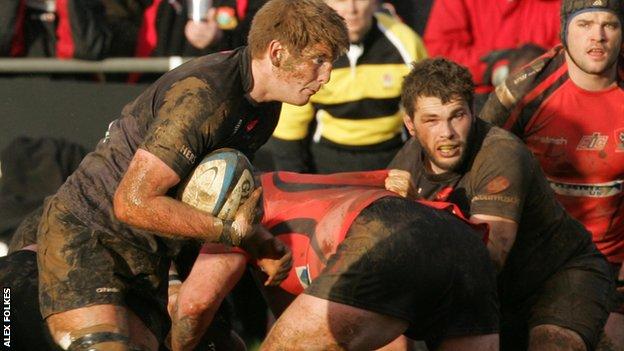 Launceston secretary Simon Johnston has guaranteed that the club's players will be paid their outstanding wages.
Members of the squad met the club's executive this week after they were told they may have to take a pay cut.
But Johnston says sufficient money has been found to pay the players, although it may be later than their expected pay-day at the end of April.
"The players will be paid in full, although it might not be until mid-May," he told BBC Radio Cornwall.
"We have been working tirelessly and we have been able to secure the majority of the money the players are looking for."
Johnston says many clubs are struggling financially as the economic climate affects their revenue streams.
"If you talk to any teams at our level, getting money into the club, especially in the form of sponsorship and general financial commitment from people to help the club, is a lot harder now in these austere times than it has been previously.
"With that in mind out budget for next season is going to have to reflect that."
The National Two South club has seen head coach Tony Roques and director of rugby Simon Owens announce they will quit at the end of the season, and Johnston says the club will now look to secure senior players for next season in the hope that they will help coach the club.
Last week captain Tom Rawlings told the BBC that the players wanted backs coach Steve Perry to take over from Roques.
"I think primarily what we need to do is that when the budget is officially announced we need to then look at how many players will be at the club next season.
"If we can keep the core squad together we will be looking to finish as high up in the league table as we can.
"We have already started negotiations with senior players and coaches within the first team set-up who will be looking to put together a new coaching and management structure before the start of the season."