John Afoa banned for Ulster's Heineken Cup semi-final
Last updated on .From the section Rugby Union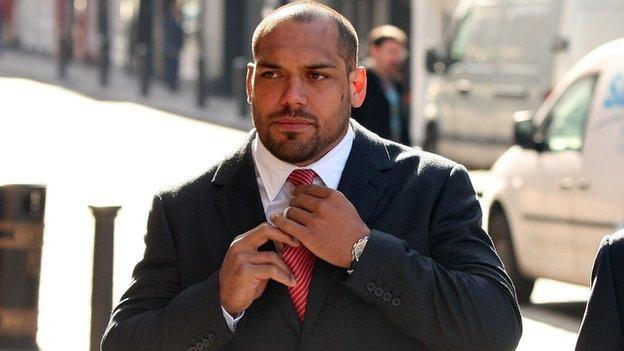 John Afoa has been given a four-week ban which rules him out of Ulster's Heineken Cup semi-final with Edinburgh.
The prop was cited for a dangerous tackle on Munster's Felix Jones during Ulster's quarter-final win on Sunday.
The New Zealand World Cup winner will now miss the game with Edinburgh at the Aviva Stadium on 28 April.
Ulster Rugby said Afoa is "very disappointed" with the decision as he has never previously received a yellow or red card during his career.
Afoa pleaded not guilty to foul play at the disciplinary hearing in Dublin on Thursday but was given a seven-week ban by judicial officer Jean-Nöel Couraud.
Couraud reduced to the penalty to four weeks after taking into account the player's "clean record, good character, age and experience".
The tighthead prop will not play again this season if Ulster lose to Edinburgh in the Heineken Cup semi-final and fail to qualify for the semi-finals of the Pro 12.
Ulster have the right to appeal but indicated in a short statement that they will accept the punishment.
"John Afoa himself is very disappointed, particularly in view of his outstanding disciplinary record where he has never previously received a yellow or red card during his professional career," said the Ulster statement.
"John looks forward to returning to play after 7 May."
The 28-year-old misses the forthcoming league games against Connacht, Leinster and Munster but his absence for the Heineken Cup semi-final against Edinburgh is a huge blow to Ulster.
The team's front-row options are limited. Adam Macklin and Declan Fitzpatrick, who has not played for the first team since November, will come into contention.
The complaint against Afoa was made by citing commissioner Peter Larter.
The judicial offier upheld the citing complaint and found that the offence warranted a red card under Law 10.4(j) which states: "lifting a player from the ground and either dropping or driving that player's head and/or upper body into the ground whilst the player's feet are off the ground".
Couraud determined that Afoa's tackle was at the mid-range entry point of six weeks.
A further one week was added on as a deterrent, but mitigating factors such as the player's clean record was taken into account in reducing the ban to four weeks.
The player was accompanied to Thursday's hearing in Dublin by Ulster director of rugby David Humphreys, team manager David Millar and legal representative Donal Spring.