Harlequins prop Mark Lambert defends English salary cap
Last updated on .From the section Rugby Union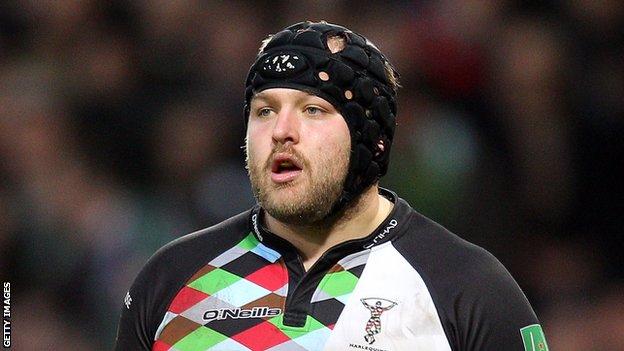 Harlequins forward Mark Lambert does not believe the English salary cap should be an excuse for defeats in European competition.
He told BBC London 94.9: "It does have an impact to a certain extent, in terms of depth of squads.
"But it's very easy to see it as a knee-jerk reaction to one season."
The 27-year-old added: "If it's something that continues for three or four years it might become a more obvious issue.
"But I think there is a huge amount of strength in English rugby.
"There are English clubs that have had big results in Europe this season. I wouldn't be at all surprised if, this time next year, there are a few teams involved in the late stages of European competitions."
The salary cap for clubs in the Aviva Premiership currently stands at £4m, and Lambert believes that keeping that figure is an important step to maintaining an even playing field in domestic competition.
"I'm not a money man but I think given the economic situation of a lot of teams, you need some regulation," the prop continued.
"If it's a free-for-all, you wouldn't see the competitive nature of the Premiership as it has been in the last few years.
"You'd begin to see a gulf between those who have the money and those who don't."