Jeremy Guscott Q&A

By Jeremy Guscott
Rugby union analyst, BBC Sport
Last updated on .From the section Rugby Union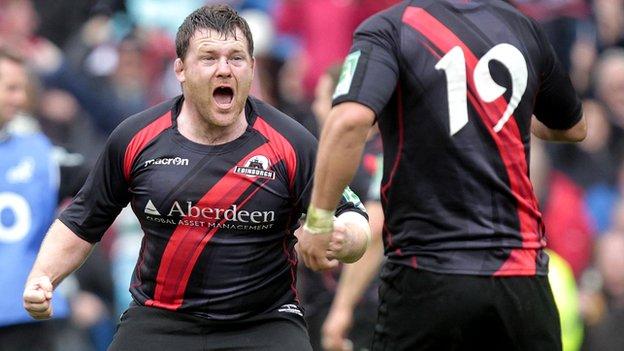 Among the topics the former England and Lions centre discusses this week are:
- Who will win the Edinburgh v Ulster Heineken Cup semi-final
- Who will win the other last four-encounter, between defending champions Leinster and Clermont
- Whether the salary cap is to blame for the poor showing of English clubs in Europe this season
- Who his former club, Bath, should appoint to replace the departing Sir Ian McGeechan as boss
Jerry will answer as many of your questions as possible each week but not every question submitted can be used. This week's answers appear below.
As a Scot I'm very proud that Edinburgh have reached the Heineken Cup semi-final. What do you think of their chances against Ulster? Kyle Paterson, Scotland
Hi Kyle, Edinburgh beating Toulouse and becoming the first Scottish side to make a Heineken Cup semi-final is brilliant for Scottish rugby. Ulster have beaten Edinburgh twice this season with bonus-point victories and will go in as favourites, but Edinburgh will have big belief after beating one of the favourites in Toulouse.
I would have to go for an Ulster victory, though. I believe they will be too powerful up front and with Springbok scrum-half Ruan Pienaar calling the shots they have that key match-winner that can make the difference.
After Edinburgh's win over Toulouse, I have two questions. Firstly, can Edinburgh's style be carried over with success to the Scotland team? And secondly, Toulouse were a shadow of the team we expected; is French rugby regressing given the national side's patchy Six Nations? Henry Bruce, Scotland
Hi Henry, the Edinburgh style can't really be transferred because you play with what you have. Scotland's problem as far as I can see is predominantly player errors and poor decision-making.
You only have to look at the Challenge Cup semi-final line-up to know French rugby is all right. OK, it is the second-tier competition but the winner qualifies for the Heineken Cup, so it cannot be dismissed. The French rugby clubs are unique, a bit quirky, a little bit like American states almost. They have their own individual agenda and some are, surprisingly, not fully committed to the Heineken Cup and prioritise their domestic league.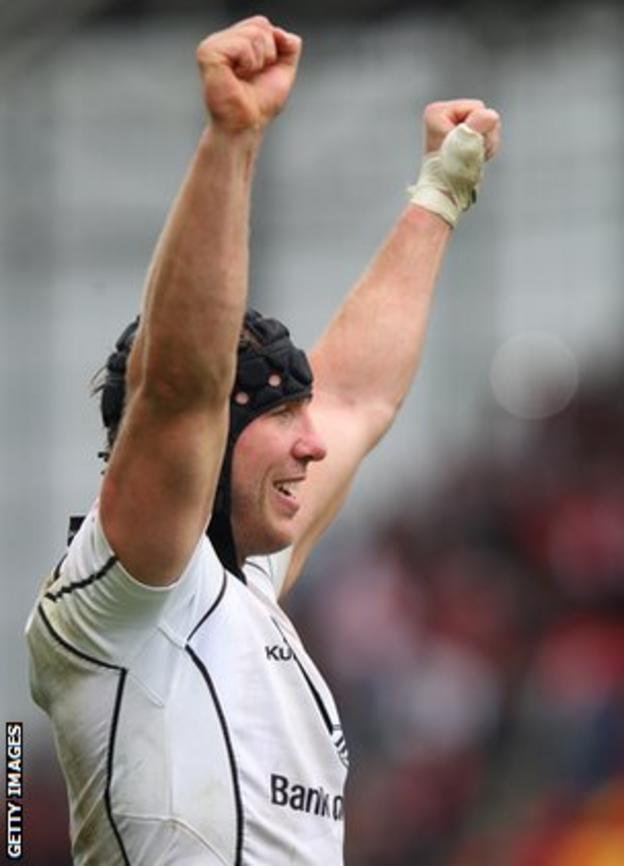 Hi Jeremy, Ulster's win was a victory for Northern Ireland. What would stop Ulster from winning the Heineken Cup? Marc, Northern Ireland
Hi Marc, Edinburgh, Leinster or Clermont! Ulster would be my favourites to beat Edinburgh, but not to beat either Leinster or Clermont.
Hi Jeremy, having watched all the quarter-finals I can't see anyone beating Leinster. Can you see any chinks in their armour? Mike, Scotland
Hi Mike, Leinster will certainly be tested in all areas by a very talented Clermont team bursting with class. There's no doubting Leinster's class and pedigree - they've been here so many times in the last three seasons. I believe the semi-final in Bordeaux between the two will be an absolute cracker, but I think Clermont will win.
Surely Saracens boss Mark McCall's suggestion that the salary cap is to blame for Sarries' defeat by Clermont was proven wrong straight away by Edinburgh's semi-final place? Kieran Riach, UK
English coaches blame the salary cap for their lack of competitiveness in the Heineken Cup. Is it not more their playing culture that is to blame? Bill, England
Hi Kieran and Bill, I agree with both of you; McCall is being kind, defending his players. Sarries gave silly kickable penalties away in the first half and Clermont scored early in the second, leading 19-3 after 48 minutes. Sarries would have needed a miracle to come back from that position against a team of international quality like Clermont.
In the Premiership Sarries can overpower a lot of teams but Clermont easily matched them up front and had more attacking threat in the three-quarters. Sarries have played one way for the past 18 months, it's been successful domestically but they need more inventive rugby to beat the best in Europe.
However, the salary cap does have an impact, it has to. If you have a bigger budget it stands to reason that you can attract so-called better players but it is not as much of a reason for the defeat as McCall indicated, as we know from the Edinburgh v Toulouse result.
With the Irish provinces performing so well in the Heineken Cup why do you think they find it hard to transfer that form on to the international scene? Hamish McCallum, England
With great performances from all three of the Irish provinces this weekend, I can't for the life of me understand why Ireland cannot play the same way. Any clues? Rob, Northern Ireland
Hi Hamish and Rob, I'm always asking Keith Wood the same question and he says it's something to do with being favourites and expecting to win; it doesn't sit easily with the national team. I still don't understand that but I agree it's psychological, because Munster and Leinster have come to terms with being favourites for several years now.
Ireland have never really been overly strong in the front row, so that doesn't help. Coach Declan Kidney won a Grand Slam with pretty much the same players still available today, bar one or two, so either Ireland have got worse, the others better or Ireland really can't cope with being favourites very well.
Is it right in saying that Stephen Ferris is the most consistent and best blind-side in Europe? Adam, Dungannon, Northern Ireland
Hi Adam, Ferris is certainly an impressive player, his defence against Munster on Sunday was immense - he made 19 tackles. Personally I would like to see him more in attack but he's loving the physicality at the moment. I agree it's fair to say, when fit, that he's the best six on the European club scene.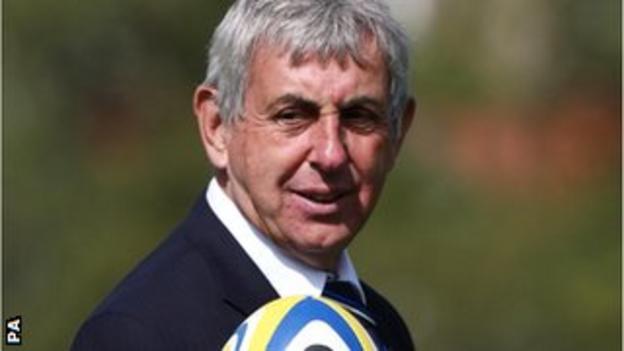 Now that Sir Ian McGeechan's exit is confirmed, as a Bath legend, who are your favourites to take over the coaching reins at the club so that they will become a major force in Premiership rugby again? Derek Wilcox, England
Bath need to recruit very wisely because it will take the new man at least a season to have any impact, he'll have to change at least a third of the team and move them out of the comfort zone they've got used to. If Dean Richards hadn't gone to Newcastle he would have been my pick.
I like the idea of Dean Ryan but would have to do a background check into the finer detail of why he left Gloucester. I thought Ryan did a good job bringing on youngsters, he got some good overseas picks and listening to him, he certainly understands the game well. The hardest job would be persuading him to leave the comfort of a TV studio for the pressure of week-to-week Premiership rugby.
I hope it's not a big international name who gets the job; I would just prefer someone with a reasonable profile who can connect with the players and get them to play a decent brand of rugby. It doesn't end with the head coach - his fellow coaches are as important. Whoever the club chooses I hope it's someone who likes the Harlequins route of development rather than the Saracens method.
Another year of European rugby in which the Welsh clubs have failed to make an impact. Why are the regions not performing to the same standard as the national team? Adam, UK
Hi Adam, there appears to be some off-pitch uncertainty surrounding the Welsh regions, so I'm not surprised they're not performing. Everyone in Welsh rugby is waiting to hear the outcome of an audit commissioned by the Welsh Rugby Union to give them an overview of the regions and the report could be very disappointing.
All the internationals returning will always struggle to get back into the flow of things after a fantastic Six Nations, but the Welsh regions haven't really done any better over the years in the Heineken Cup, whether the Wales national team have done well or not.
Why not also follow Jerry on Twitter?