Gavin Henson sanction condemned by Mike Ruddock
Last updated on .From the section Rugby Union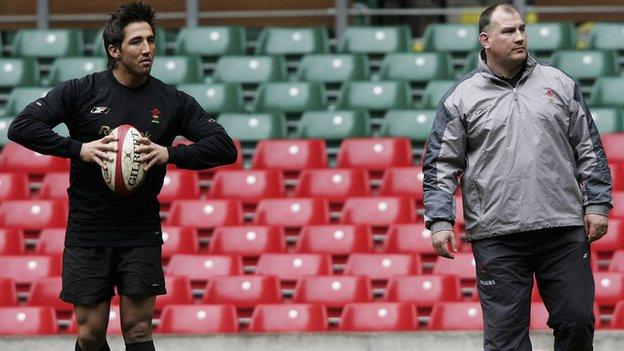 Gavin Henson has been "hung out to dry" by the Cardiff Blues following the circumstances that led to his dismissal, says former Wales coach Mike Ruddock.
But Ruddock questioned whether the Blues would have imposed a similar punishment on all their players.
"It's important there's a level of consistency when you discuss sanctions," said Ruddock.
"Would Cardiff Blues, for example, have taken exactly the same stance against Jamie Roberts or Sam Warburton or Leigh Halfpenny?"
The Blues have defended their decision to sack Henson, with coach Gareth Baber stressing the player's behaviour would not be tolerated by the region.
Henson, 30, was one of "several" Blues players to go out after their Pro12 League defeat at Glasgow on Friday night, and continued to drink on the flight back from Scotland the following morning.
He apologised for his "inexcusable" behaviour but the Blues decided to terminate his eight-month contract following an internal review.
Ruddock, who was Wales coach when Henson won the first of his two Grand Slams in 2005, believes the Blues should have offered more support to a player who has suffered many well-documented off-field problems.
And he echoed the view of other coaches and former players that the Blues have set a dangerous precedent for themselves.
"If the Blues can look at themselves in the mirror and say they would have taken this stance with some of the other star players, then that's for them to be comfortable with," he added.
"But if, as I feel, Gavin needs a bit if support - without condoning what he's done - then I think they've hung him out to dry a little bit."
The Blues, who face Leinster in a Heineken Cup quarter-final on Saturday, have been criticised for allowing some of their players to go out in Glasgow on Friday night.
But Baber said: "They went out, several of them went out. But they did not take it to the excess that that individual [Henson] did.
"They came back to the hotel and they were fine. They are grown men and they are professionals. It takes a lot for players to wind down and we [Baber and forwards coach Justin Burnell] were doing the same in the hotel ourselves.
"Obviously it was a bit disappointing to be in that situation on Saturday morning but that's the way it was."