Calum Clark ban correct call - Richard Cockerill
Last updated on .From the section Rugby Union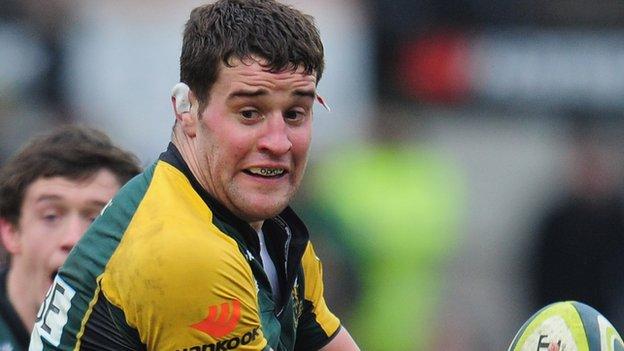 Leicester Tigers director of rugby Richard Cockerill says the 32-week ban imposed on Northampton's Calum Clark for breaking Rob Hawkins' elbow is fair and it is time to move on.
"What's happened has happened," Cockerill told BBC Radio Leicester.
"It's been dealt with in a sensible manner and we draw a line under it."
Clark's ban is dated from 22 March-1 November and the flanker also had to pay hearing costs of £500.
Hooker Hawkins, who signed a new contract at Welford Road last month, could be out for three months.
Cockerill was furious following the incident, describing Clark's actions as "completely out of order"
But he said the matter is now closed.
"Hopefully Rob will make a full recovery and will be back playing as soon as possible," Cockerill added.
"Calum Clark will serve his sentence and come back into the game. He's a great young player, he's made a mistake and he needs to learn from it. Hopefully the game, him and Hawkins all get through it and hopefully these things don't happen again.
"If you read the written statement it was actually 64 weeks and the mitigation and good record and everything halved that sentence.
"You have to be careful in how you sentence people and Judge Jeff Blackett is an experienced person and you trust his judgement. He knows the game and he's made a call and it's probably the right call.
"Now we all get our heads down and get on with playing rugby again.
"Everybody saw what happened that day is not part of the game, them, us and the wider rugby public."
Third-place Tigers and fourth-place Saints are both pushing for a home fixture in the Premiership play-off semi-finals next month with just three rounds of the regular season remaining.
And the great East Midlands rivals face each in a crucial match on Saturday, 14 April but Cockerill is not worried the clash will be any more spicy than normal.
"The clubs are fantastic rivals. They are a great club, who we have a huge amount of respect for and vice versa.
"We all get a bit heated and emotional about our team and rightly so but when it comes to it we all want what's best for the game.
"When we meet in a couple of weeks it will be heated and a frantic, hard battle but let's hope it's an honest one and we can all get on with playing good rugby."