Plymouth Albion chairman hails Championship survival
By Brent Pilnick
BBC Sport
Last updated on .From the section Rugby Union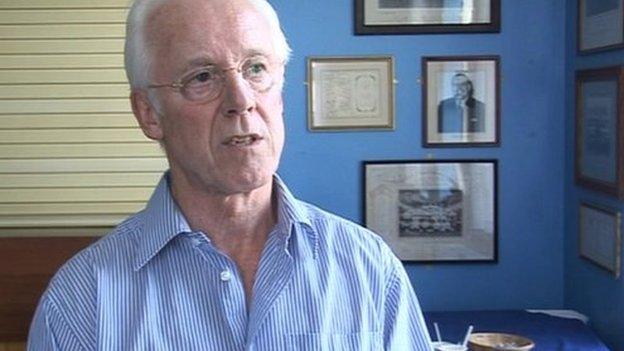 Plymouth Albion chairman Graham Stirling says the club's 11-6 win over London Scottish has helped secure the club's immediate future.
It means Albion keep their Championship status next season and secure central funding from the Rugby Football Union.
Albion have had financial problems over the last four months which almost saw the club go into administration.
"It's massively important because it secures us in the Championship where we feel we should be," Stirling said.
The funding has been worth £320,000 to Albion this season and Stirling expects that to rise by about £20,000 for next season.
"It's securing playing at the right level for a city the size of Plymouth. We really need to be in the Championship.
"There are far too many examples around where teams have been relegated from the Championship and found it immensely difficult to go back up as they have had to adjust to a completely different financial model," he told BBC Sport.
Birmingham and Solihull, who were relegated from the Championship last season, have just been relegated from National One while Newbury and Manchester, who have gone down in recent seasons, are now struggling at regional levels.
Albion have had pledges of around £200,000 since since they asked fans to help save the club in January but Stirling says they still need more cash.
"We do need to get to £250,000. If we don't get that it does give us cashflow issues over the next few months, but not so big that we can't work our way through it.
"We're not in perilous state that we were 10 or 12 weeks ago. We have survived, but we want to move into next season with that extra working capital."
And he says he is confident that head coach Nat Saumi's squad will do well, if they can be persuaded to stay at the Brickfields.
"I'm absolutely delighted with the way the squad have responded and to put together the last three wins in quite impressive style.
"Not only have they secured our future in the Championship next season, it also increases our resolve to keep these players as long as possible.
"We believe we've got a good squad which is coming together and showing that what they might achieve."