Exeter Chiefs forward Chris Bentley reflects on his career
By Brent Pilnick
BBC Sport
Last updated on .From the section Rugby Union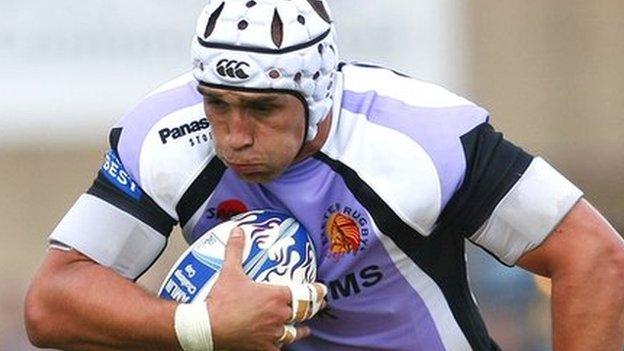 Anyone who comes across the Exeter Chiefs for any prolonged period of time will soon enough stumble across the figure of Chris Bentley.
The 32-year-old, 6ft 6ins lock has a face that bears the battle scars of more than a decade in the trenches that forwards love to talk about.
But after a career that has seen him spend the best part of 10 years at Exeter, along with spells at Orrell and Tasman Makos, he is hanging up his boots.
But he will not be leaving the club, far from it, he's taking over a role as a corporate sales executive, hoping to entice more people to come and watch the club he loves.
"Chief executive Tony Rowe called me in about a month ago and discussed the options with regards to playing and moving on," he said.
"As a character I think the club would still like to have me around, so while I won't be able to influence things on the pitch, I can still continue my influence off the pitch."
Bentley was signed by Ian Bremner when Exeter still played at the County Ground. 'The Enforcer' was how the local paper described him after he made the move down south from Orrell in 2004.
He had already made a name for himself as a tough-tackling forward in Lancashire, playing over 100 games for Orrell.
And for his first two seasons with the Chiefs he continued in that vein, he was an ever-present in the side and won England Counties honours.
But as time has rolled on he has seen his chances at Sandy Park become more limited, especially since rejoining in the summer of 2007 after a season in the New Zealand NPC with Tasman Makos.
"It's been interesting," he said. "Having had the boot on the foot of being first choice, in my first couple of years I played every game, to see the diminishing of the light as we've improved has been a bitter-sweet pill.
"It's been great that the club has improved although my personal fortunes might not have been so good.
"But on the same side of things I've played in the European Challenge Cup, I've played in the Premiership, I've played in the LV= Cup.
"I've had a cracking time, I've enjoyed every minute and I'm going to make sure I see out this season as best I can.
"I'm going to enjoy what I've got left playing and the next episode's going to be equally enjoyable as well."
Bentley has seen Exeter grow immeasurably from a side in the old Allied Dunbar Premiership Two playing at the outdated County Ground that the Chiefs shared with the local speedway team, to a side in the top six in the Premiership with a number of current internationals in their line-up and preparing for a European challenge Cup quarter-final away at Stade Francais.
"It's been magnificent to be part of the evolution and growth of the club," he says.
"There's about five or six of us that were back at the County Ground and have moved back through and it's a real privilege and honour to be part of the history and fabric of the club."
So what of the future? For the first time in his adult life he will be working in an office and will not be surrounded by 40 or so other men as they prepare for matches and board the team bus.
"Nine to five is horrific," he added.
"For the last 12 years of my life I've been moaning if we have a five-hour day, so on my days off I've been in already.
"I'm going to have to dilute myself somewhat, we're quite juvenile down the corridor on the playing side and I've already been told that a lot of my antics won't be appreciated by the girls in the office."
But he hopes that he will still find the time to have a few games of rugby, even if it is not in front of 10,000 at a packed Sandy Park.
"I'm certainly not hanging up the boots full stop," Bentley says forcefully.
"A lot of my memories as a youngster are watching my old man play veterans rugby, he played until he was about 43.
"I'd like to think in the near future I'll strap the boots back up, just not at the absolute top end of the game."