Winger Lee Jones extends Edinburgh stay until 2014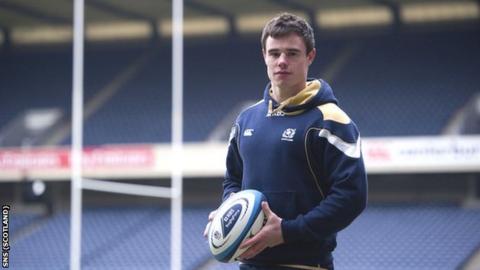 Scotland winger Lee Jones has extended his stay at Edinburgh until 2014.
The former Selkirk and Scotland Sevens player has scored five tries in 16 appearances for the capital side this season, his second as a professional.
And the 23-year-old made his Scotland debut in the Calcutta Cup defeat by England on his home ground this month.
"The last couple of seasons have been incredible. It really is a dream come true to play professional rugby for club and country," said Jones.
"I'm absolutely delighted to have secured an extended contract.
"In my first year as a professional player, I had to adjust to the daily intensity in training and the speed and physicality of the matches.
"But, a season on, I've adapted to those demands and am now happy that I'm bringing a consistency to my performances for the club.
"I've never stopped improving as a player and I don't plan to now."
Among his five tries this campaign, Jones scored one against London Irish that earned Edinburgh a home tie in the Heineken Cup quarter-finals against Toulouse.
On Tuesday evening, Jones wrote on Twitter: "Thanks for the messages regarding my new contract! Going to celebrate with a few pancakes."
Jones' coach at Edinburgh, Michael Bradley, praised the Borderer's work ethic and level of skill.
"Lee has grasped all the opportunities presented to him to improve and perform," he said.
"His performances have undoubtedly lifted the team on a number of occasions and he has an exceptional engine, which always helps him to hunt out scores from the opposite wing.
"Some of his highlights would certainly be his covering defensive work and an incredible strength in the contact area that regularly takes teams by surprise.
"Few can afford to give him a glimpse of a gap or he'll be away."