Six Nations: Jeremy Guscott Q&A

By Jeremy Guscott
Rugby union analyst, BBC Sport
Last updated on .From the section Rugby Union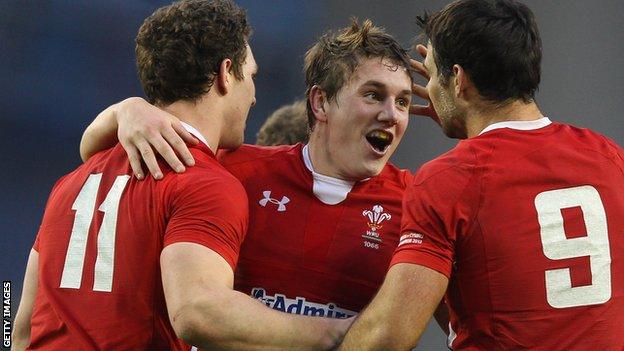 The former England and Lions centre answers your questions ahead of England's clash with Wales at Twickenham on Saturday
Among the topics Jerry discusses this week are:
- How England can beat an impressive Wales team
- Who he thinks England should select against Wales
- The comparison being made between Owen Farrell and Jonny Wilkinson
- England fly-half Toby Flood's big match temperament
- The Welsh players who he feared playing against
Jerry will answer as many of your questions as possible each week but not every question submitted can be used. This week's answers appear below.
If you were playing on Saturday how would you feel about tackling the giant Welsh backs? Should I sympathise with my English friends? Geraint Cooper, England
Hi Geraint, I can't see you for one minute sympathising with your English friends - I can see you smiling right now. Playing against such a giant of a backline presents certain problems, but opportunities in other areas. If I was playing then I would be expecting my inside centre to be rather busy.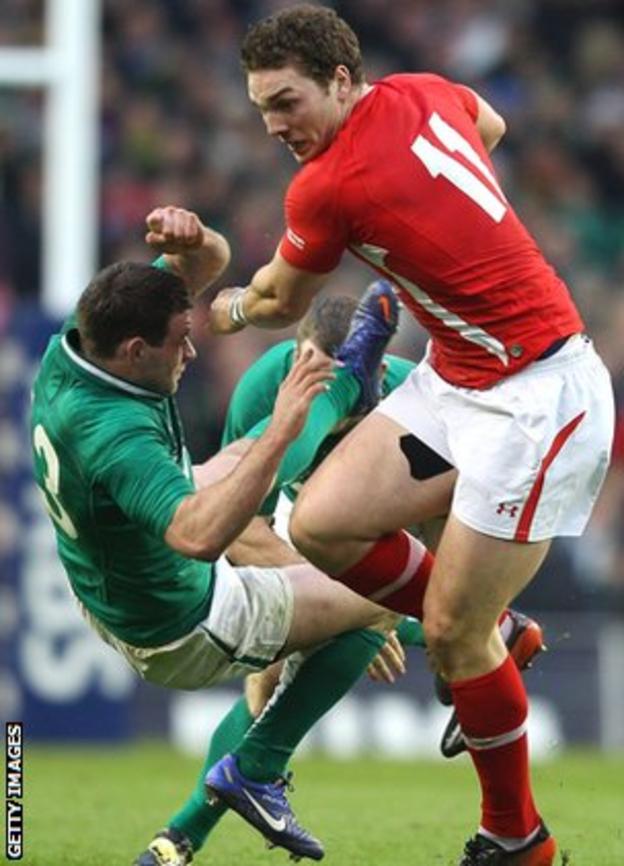 Hi Jeremy, former Wales fly-half Jonathan Davies said in last week's Scrum V he thinks Wales "should absolutely smash" the English physically. What's your opinion on this? Also who do you think will win? Cheers.Matthew, Wales
Hi Matthew, it's always good to hear Jonathan getting excited. He's not very biased at all. A lot of what he said could come true if England don't front up in defence. With George North, Alex Cuthbert, Jamie Roberts and Mike Phillips all well over six foot and three of those players being over 16st, there's some serious weight coming through to batter the English defence.
England will have worked on a strategy to combat that and a lot depends on selection as to how that strategy will be implemented. Wales start as favourites.
Hi Jeremy, I've heard a lot of talk about which combinations Stuart Lancaster and co could go with against Wales. Could they go for Owen Farrell at 10, with Brad Barritt and Manu Tuilagi in the centre? Farrell will play 10 in the long run, so why not give him a go now? Plus, with Barritt and Tuilagi in midfield, England can look to get on top of Jamie Roberts and Jonathan Davies. John, England
Hi John, for the first time in his reign as England coach Lancaster has some real selection dilemmas. I would go for Barritt at 12, Tuilagi at 13 and either Farrell or Toby Flood at 10.
Jeremy, with the likes of Tuilagi, Courtney Lawes and Flood back in action, and England facing the challenge of producing some creativity in the backline to get over the gainline against a daunting Welsh team, what would your starting XV against the Welsh be? Bav, England
Hi Bav, the changes I would make would be to bring in Lawes for Mouritz Botha, Ben Morgan for Phil Dowson, Lee Dickson for Ben Youngs, Farrell or Flood for Hodgson and Tuilagi into the centre.
Hi Jeremy, given that England are huge underdogs against the Welsh, is there any way that the English can win? And, if so, how should they go about it?Tom, England
Pundits and fans alike seem to be giving England no chance against Wales due to the immense and ferocious Welsh backs. Is there a danger that Wales will be complacent and try to steamroller England in the backs when surely the physicality of the Premiership means we are the best-suited Six Nations team to face the Welsh? An England upset on the cards? Adam Instone, England
Hi Adam and Tom, from what we have seen so far in the Six Nations, Wales are deserved favourites to beat England but that doesn't mean they will definitely win. I honestly don't believe Wales will be complacent because they have not won anything yet and have everything to lose.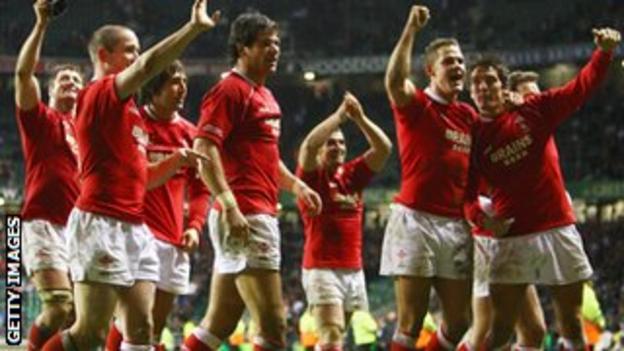 There hasn't been a lot that I've seen from their performances that makes me confident that England can pull off an upset, although Wales have only won once at Twickenham in the last 24 years. And, if the game remains close, that could play on their minds.
Wales have a settled team playing in a style they all seem comfortable with and England are finding their way. England have to frustrate the Welsh and put them under pressure in all areas of the game.
Wales' one weakness appears to be the line-out but they have won both games so far despite that. Ideally, I would like England to have the same ambition as Scotland showed playing Wales but with better execution - if they do that they stand a chance of winning.
Whilst Wales are undoubtedly playing attractive rugby, they only beat Ireland with the help of a debatable penalty, and did not cut loose against Scotland until they had players in the sin-bin. Are Wales really as good as the current hype? Duncan Morley, England
Hi Duncan, you're right. The Ireland game could have gone either way but Wales did look fitter and stronger than Scotland. The Welsh team does look good and they have been playing decent rugby but they haven't won the Championship yet.
They have to be confident in their ability without being complacent. They will still being carrying the hurt of playing well against South Africa, France and Australia in the World Cup but ultimately losing.
In my opinion, it's only a matter of time before this Welsh team realises its potential and wins big. The big question is, how much time?
During the week Neil Jenkins compared Owen Farrell to Jonny Wilkinson. Do you not think it is a bit early to be comparing him to such an iconic figure in rugby. Surely we should be allowing him to grow and develop into a player of his own right without the burden of being compared to one of England's great rugby players of the past decade?Liam Hall, England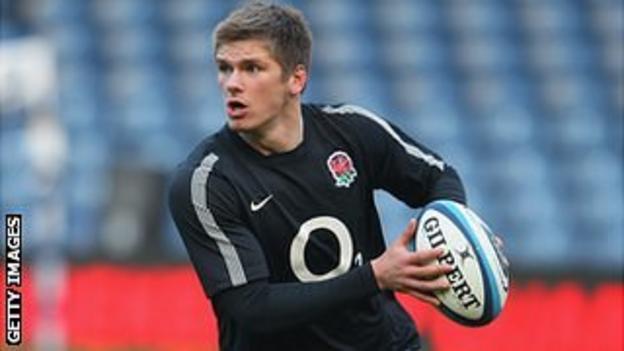 So does Neil Jenkins mean Farrell kicks and tackles, but can't run a back division?Phil, UK
Hi Jerry, I know Neil Jenkins was a world class fly-half but I am totally against believing Farrell is like Wilkinson. When Jonny was first capped he made an immediate impact. When Farrell was called into the England set-up I expected to see some magic from him, but all I've seen is a normal lad kicking a few goals for England. Do you believe there is potential for Farrell? Moses, England
Hi Liam, Phil and Moses, Neil only said Farrell has reminded him of Wilkinson, not that he's as good. What we've seen from Farrell is some solid kicking, the expected defence but little in attack.
He's getting plenty of praise because he's young (20) and coping with international rugby, and showing some real composure kicking at goal. Farrell has shown a cool temperament under the pressure of kicking, which reminds some of Jonny. It's not fair to measure against Wilkinson, but it will happen.
Personally, I think it was easier for Jonny at the beginning of his career because he came into a team that was established, not one rebuilding.
Also, to be fair to Jonny, he did have an impact in defence and his kicking at goal. It's fair to say that, if Farrell plays on Saturday, we will see him exposed to some real talent and every part of his game will be tested.
Geordan Murphy is being hailed for his last minute drop-goal when he took on the responsibility as Leicester beat Saracens. Absolutely top class. However, does this raise a question mark over Toby Flood's temperament? Surely he should have been controlling the situation better? Geraint Cooper, England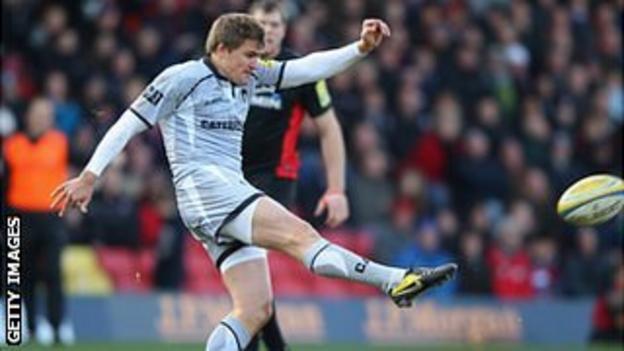 Hi Geraint, a lot has been made of this and it just looked to me as though Murphy decided he was going to do the job and stepped in front of Flood, who was standing further back. Personally, I thought Flood had a reasonable game and don't have a negative view about how the drop-goal was executed. I didn't notice Flood not wanting anything to do with it.
Wasps have such a promising crop of youngsters (think Joe Simpson, Billy Vunipola, Elliott Daly, Jack Wallace), why are they sitting so low in the table, and do you see them turning it around? Dave Poulton, England
Hi Dave, Wasps are doing well to get a team on the field considering everything that's going on around them.
The sooner the club can make a statement about its future being sorted the better it will be for all concerned. Until that happens I can't see anything changing in the short term.
Hi Jerry, when you used to play against Wales, which player did you fear the most?Rhod, Wales
Hi Rhod, fear doesn't enter into a rugby player's psyche, but I guess the look in my eyes must have suggested otherwise.
I played against some brilliant Welsh players, Scott Gibbs, Ieuan Evans, Rob Howley, Allan Bateman, Robert Jones, Mark Ring, Mike Hall, Gareth Thomas and Neil Jenkins to name a few.
Even Jonathan Davies, but he was an old man… still quick enough to tap tackle me when I thought I was away and going to score though.
Why not alsofollow Jerry on Twitter?