Non Evans: Wales Women should beat Scotland easily

By Non Evans
Former Wales full-back
Last updated on .From the section Rugby Union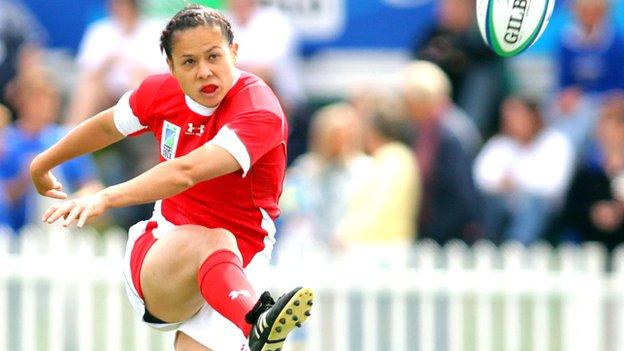 In the second of her columns for BBC Sport Wales, retired Wales international Non Evans assesses what lies ahead for Wales following the abandonment of their opening Six Nations clash against Ireland with the score Ireland 10-3 Wales.
Wales were quite dominant up front against Ireland and their forwards did play quite well and won some good set-piece ball.
But I think the weakness was definitely in the backline with some poor defending all-in-all and some loose kicking.
In that respect Wales have been a little bit unlucky - just before the Six Nations Ceri Redman and Elen Evans, who would have started as an experienced centre partnership, got injured a few weeks before the campaign.
So you had Phillipa Tuttiett in the centre, who has been away in Australia playing touch rugby and who hasn't played for Wales for over five seasons alongside Adi Taviner who's only played one season at senior level.
Tuttiett has played well in the trial games and in club rugby, but it is a big step up to the international arena and there were two youngsters on the wing and Mared Evans, who's just come back from injury, at full-back.
So it's a very inexperienced back-line apart from the half-backs Naomi Thomas and Laura Prosser.
Yes, they will develop and will improve, but it is a massive step up from club rugby in Wales to international rugby.
And the one try that was scored by Alison Miller from Ireland, she just kind of ghosted around Charlie Murray on one wing and the stepped quite easily around Mared Evans at full-back.
It was Mared's first game back since May when she had an operation on her ankle.
So I think they are really going to have to tighten up the back-line defence if they are going to improve during this campaign.
But there are good things to build on - Jamie Kift was the only player to go off injured and she's been passed fit to play against Scotland at Cross Keys on Sunday.
It remains to be seen whether coach Rhys Edwards will make any changes after one half of a game.
Scotland lost heavily against England - they conceded nine tries, but… they regard that as an improvement because they lost by more than 80 points at Twickenham last year.
But England put out a second team including lots of youngsters and new caps, although England have so much strength in depth they can do that kind of thing.
Wales should beat Scotland quite convincingly at home. They've been struggling for quite a few seasons now - we've beaten them well for the last few years so Wales should be looking for a convincing win.
But England remain favourites for the title - again - and France are likely to finish behind them so Wales are playing to be the best of the rest.
* Non Evans was talking to BBC Wales Sport's Gareth Roberts