Six Nations: Jeremy Guscott Q&A

By Jeremy Guscott
Rugby Union Analyst, BBC Sport
Last updated on .From the section Rugby Union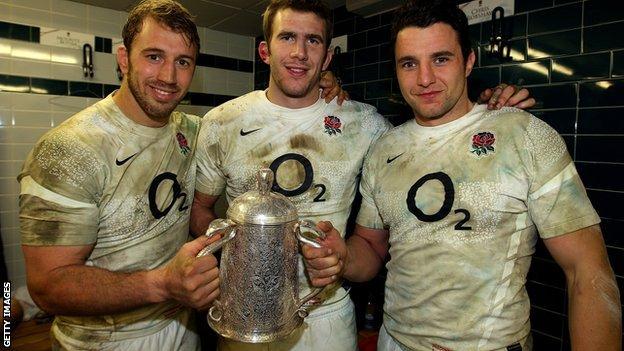 The former England and Lions centre answers your questions after the opening round of the Six Nations.
Among the topics making the headlines this week:
- England winning in Scotland in Stuart Lancaster's first game in charge as the hosts blow several chances
- Wales' dramatic last-gasp 23-21 win over Ireland courtesy of Leigh Halfpenny's penalty
- The controversy surrounding the tip tackles by Bradley Davies and Stephen Ferris at the end of the match
- England fly-half Toby Flood returning from injury for club side Leicester
- France beating Italy in former Gloucester and Sale boss Philippe Saint-Andre's first game as France boss
Jerry will answer as many of your questions as possible each week but not every question submitted can be used.
After a shaky start for "New England" v Scotland, what do you feel the team is lacking and who can provide them with what is needed?James Cox, England
Hi James, firstly I have to say well done to England on winning the game. Even though they were favourites with the bookies, given the experience of the Scottish side they were certainly up against it. My constructive analysis would be that England's defence around the breakdown wasn't as tight as it could be and they didn't create many scoring opportunities.
There was one great break out from deep, which ended with Charlie Hodgson cross-kicking to David Strettle before Scotland managed to snuff the move out, but that was about it.
Another worry would be that they lacked possession and territory. Against a better side that can finish opportunities, they will concede points. It's a great start for this inexperienced team. However, they will know they need to improve fairly rapidly.
Which of England's new players showed they are capable of playing international rugby/should have been playing before now?Tom Holroyd, Northampton, England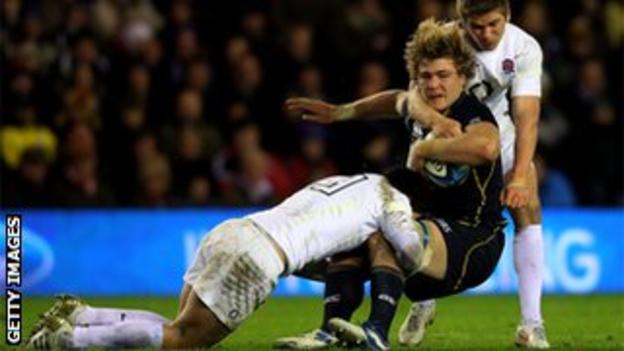 Hi Tom, we didn't really see what this England team, or individuals within it, are capable of doing in attack. In the centres Brad Barritt and Owen Farrell both defended well but didn't get much opportunity to run with ball in hand. Being solid in defence was a definite positive, though.
Phil Dowson and Chris Robshaw did a huge amount of work and defended well but, again, they couldn't get any impetus or momentum going for the team. All the England players showed they weren't afraid of hard work. They scrambled well, which is a good element for any international team to have.
I feel the very fact that interim boss Stuart Lancaster said he is proud about such a close win over an average side shows how weak England are. It is easy to say we have a young team but Wales, Ireland and France could all put out better and younger teams. Do you agree that England are not underperforming but, with the exception of Manu Tuilagi, Chris Ashton and Tom Croft, simply haven't got world-class players?Olly, England
Hi Olly, before the match against Scotland none of us really knew what to expect but were hopeful the England players selected would bring their club form on to the international stage. Certainly their attitude and work-rate were good; they just need an offence now.
Conditions weren't great and the nerves played a part, and that showed with the number of simple errors the English players made. Thankfully for them, Scotland made similar errors.
I hope these players get better as the tournament goes on but I also hope Lancaster isn't afraid to drop players who don't deliver. I think it's fair to say on Saturday's performance, no-one stood out as a world-class player.
I was wondering what chance you feel Italy have against England next week. Italy were soundly beaten by a good France team but I think they were more creative than England this weekend, and for the first time looked a team out to play rugby, not just avoid embarrassment. Is there a potential upset in the air?Oliver, Italy
Hi Oliver, there's always a chance that Italy could beat England - look what they did to France last season. If England play territory and pressure against Italy they will win but that's easier said than done because the Italians have a good set-piece.
I agree Italy tried to play more rugby but they didn't push and pull the French defence about - they went from side to side and the French had a solid line of defence waiting for them.
Hi Jeremy, I'm interested to hear your opinion on England's continued selection of Ben Youngs? I feel that when he first came on to the England scene he produced quick ball and engaged England's midfield. However, since the defeat to Ireland in last year's Six Nations, I feel he hasn't been as instrumental as an international nine should be. Rich Millard, England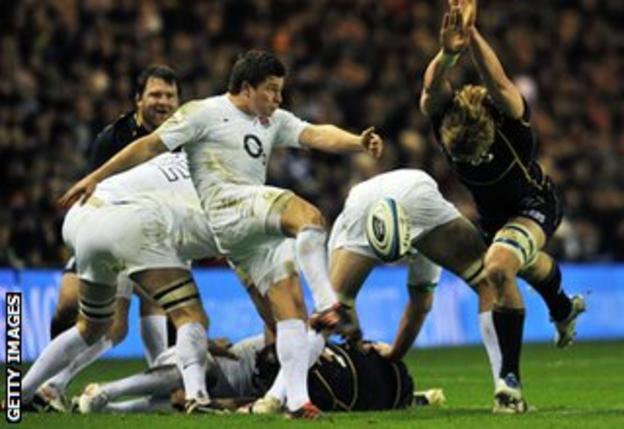 Hi Richard, in the main I agree, although when he came on against Argentina in the World Cup he had an impact. I would pick him on the bench and play Lee Dickson because I believe the Saints player gets to the breakdown quicker than Youngs and moves it on quicker. England need a faster tempo and Dickson would provide it.
Do you think that Toby Flood will be starting against Italy next weekend after his comeback game for Tigers?Harry Chatfeild-Roberts, England
Hi Harry, it's unlikely that Flood will start but I'm sure he will come off the bench.
Even as an England supporter, it was painful to watch Scotland spurn so many chances. Quite simply, why can't they score tries?Harry, England
Hi Harry, Scottish players not taking opportunities comes down to not being able to execute under pressure. You can coach as long and as hard as you like but you can't do the job for them on the field; they have to deliver. If players are failing to execute, you have to select ones that can.
What more can Andy Robinson (AR) do when Scotland can't stop making schoolboy errors?Les English, Scotland
Hi Les, I don't know what more AR can do except persist with his beliefs and coaching philosophy. However, he must consider dropping some players, mainly because of Scotland A's big victory over England Saxons.
Stuart Hogg looked good at full-back in that game and scored a tremendous try. I think Robinson should also look at bringing in Greig Laidlaw or Duncan Weir at 10, not because Dan Parks played badly, but because I feel either of these two could spark the backline.
How does someone such as Parks start for an international side when they evidently cannot play at that high a level. He may have the odd game where he kicks well but if you play 10 you are expected to kick well. Why can't Robinson see that Laidlaw and Weir would be much better choices? I'm not trying to blame the team's loss on Saturday on him, but over the years it just seems no-one is making the appropriate decisions. Tom Galbraith, Scotland
Hi Tom, I'm sure Andy Robinson would have picked Ruaridh Jackson had he been fit but it didn't work out that way. It looked as though the conditions would suit Parks but he didn't have his most precise game, particularly in the first half. I think Robinson will change him for Sunday's game against Wales.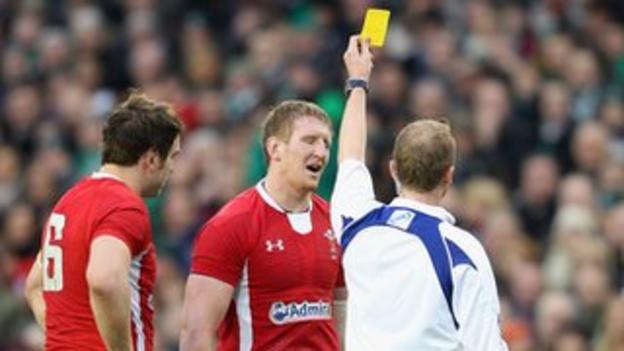 Jeremy, were Ireland robbed? A spear tackle by Bradley Davies only received a yellow card. A tackle by Stephen Ferris was then given as a spear tackle and a yellow card followed. How do you get consistency? Certainly referee Wayne Barnes and assistant Dave Pearson have no idea.Chris Thrift, England
Would you agree that the two tip tackles in Wales v Ireland were equally dangerous? The only thing that made the Irish tip tackle appear less so was because the Welsh player managed to get his arm on to the ground or else his head and shoulder would have hit it first.Andrew Crouch, UK
Hi Chris and Andrew, there is an inconsistency in global refereeing of dangerous/tip tackles which needs to be addressed quickly. The Davies incident, in my opinion, was worse than Sam Warburton's on Vincent Clerc during the 2011 World Cup and deserved red. Even Wales boss Warren Gatland said as much.
I didn't think Ferris's tackle deserved yellow but, by the letter of the law, it was a tip tackle and yellow was right. In my opinion the International Rugby Board has got the tackle all wrong. Dangerous tackling should result in a yellow or a red and refs, with the help of their assistants, should be able to tell the difference.
One other consideration: intent, or lack of it, shouldn't be taken into account because it's too grey an area to determine. Make it simple and we will all understand. Dangerous tackles should be easy to spot.
Just two words for you to talk about: George North?Richard Bradbrook, Wales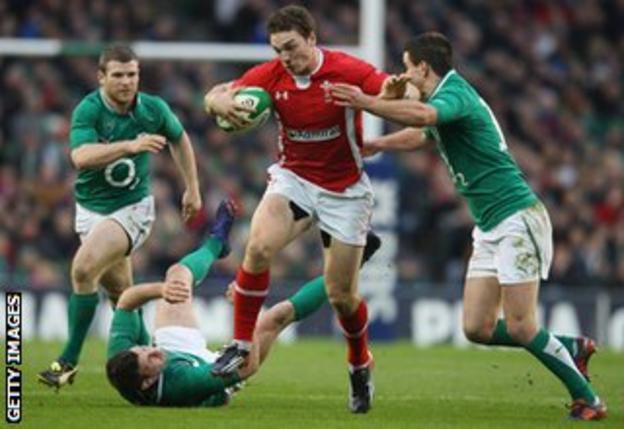 Hi Richard, North has arrived for sure. The giant young Wales winger showed his potential in his first cap, when he scored two tries against South Africa, and hasn't really looked back.
His physicality is so impressive. The hit on Fergus McFadden was one thing but having the awareness and wherewithal to slip the ball out the back of his hand and pass to Jonathan Davies was nothing short of genius. There's nothing better than watching a player with ability deliver his potential. He was my man of the match and player of the weekend.
Hi Jeremy, how much of an advantage will the size and power of the Welsh backs be as the tournament progresses? I can see the English backs such as David Strettle being blown out the water by North, Jamie Roberts etc. Alex Ward, England
Hi Alex, being physical doesn't always mean you're better than the rest, but it's a huge benefit if you use it combined with other attributes.
After France beating Italy and taking their chances with ease, are France that good, or did Italy make them look better than they are?Steffan Morgan, Wales
Hi Steffan, I thought France looked impressive for their first up game under a new coach. They didn't have all the possession but were happy to defend and look for the turnovers against Italy. France impressed me with their physicality in defence and the way they took their chances. They look as though they are warming up nicely for the tougher games ahead.
Prior to the opening round of the Six Nations, especially the France v Italy match, I was looking forward to who would display themselves as the best number eight in Europe. After this game, is it now fair to say Louis Picamoles surpasses Sergio Parisse as the best number eight in Europe, if not the world? If not, who would you suggest is currently a better player?Chris, England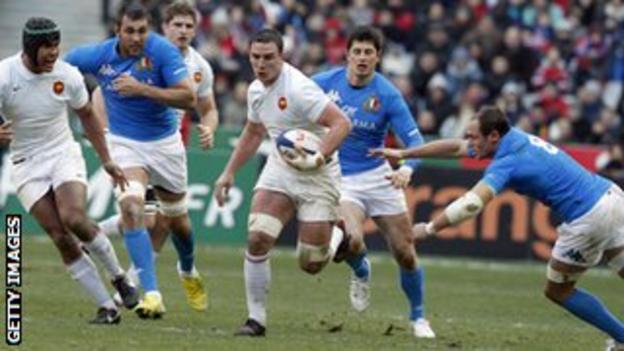 Hi Chris, the northern hemisphere is blessed with talented number eights throughout the tournament. David Denton was very impressive for Scotland with his explosive pace and destructive running. Wales' Toby Faletau is a major talent and Jamie Heaslip of Ireland is a proven world-class performer.
I thought Picamoles played very well and just look at the talent France had sitting on the bench in the form of Mr Imanol Harinordoquy. And look out for promising youngster Ben Morgan on the bench for England. Picamoles had it this weekend but he will be challenged every Six Nations weekend by all the players mentioned here.
Setting aside the controversy of the two yellow cards, I can't remember a better contest in the Six Nations than Ireland v Wales. What would you say was the hardest fought game you have ever seen/played in?Archie Owen
Hi Archie, I couldn't agree more. It was a pleasure to watch and must have been a rollercoaster to play in - what a fantastic promotion of the great game. The hardest fought game I've seen in recent times was the second Test on the Lions tour in 2009. The physicality of that match was so intense you could have got winded just watching it.