Six Nations: Andy Robinson seeks 'defining' win for Scotland
Last updated on .From the section Rugby Union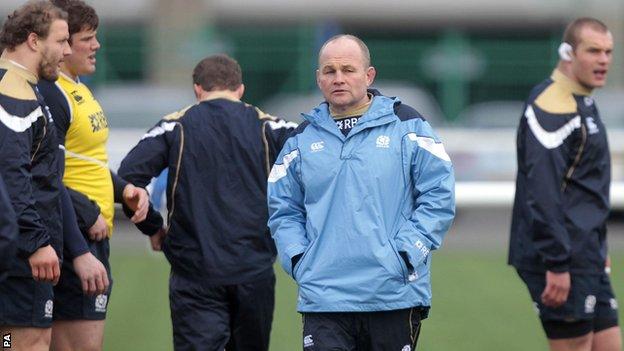 Scotland coach Andy Robinson has urged his side to throw off their 'unlucky losers' tag with victory over England.
Robinson believes a Calcutta Cup win would be the perfect response to World Cup defeats by Argentina and England.
"We are looking for Saturday to be the defining moment," Robinson told BBC Radio 5 live. "We are still in a state of having this unlucky losers tag.
"We have to take the next step, not just on Saturday but throughout. Then we can say we are going somewhere."
The Scots, unbeaten against England at Murrayfield since 2004, will be led by new captain Ross Ford and boast twice as many caps as their opponents - 501 to 236 - and Robinson wants his players to capitalise on their greater experience.
"We have a lot of caps in our front five in particular, but you have to deliver the next time you play - it is not about what you have done previously," said the head coach. "The country expects and demands a performance from us this weekend.
"We haven't won against England for the last three years and it's a huge game for us, particularly after the World Cup.
"We've been waiting four months for this game to come around. There has been a lot of talk about what happened to England but we have got points to prove as well."
Robinson has challenged his players to turn try-scoring opportunities into points and ensure promising attacks do not fizzle out in England's 22.
Scotland have failed to score a try in 13 of the 24 Tests under Robinson and he is keen for that to change.
"We have got to keep working on those basic skills, and execute them under pressure," he said.
"Last year we were one of the top passing sides in the Six Nations - only England passed the ball more [Scotland made 889 passes in last year's Championship, England were top with 902] - and it is about getting the balance right. When we are in the opposition 22, we have got to be ruthless and take our chances, like the good teams do.
"We have to start winning now. I don't countenance losing. I don't understand losing. I have real belief in this Scottish team and their ability to perform.
"But in international rugby, you can't hide away from the reality. We have put pressure on ourselves to win and it is important to do that.
"For the last two years everyone has talked about our potential and there has been excitement coming into the Six Nations but after the first four games, we haven't had a win to our name and have been going into a Wooden Spoon match.
"That is not what we are here for. The real purpose is to come together and win. That is why I am here."
Professional rugby director at the RFU, Rob Andrew, believes the pressure will be on Scotland in Saturday's opener at Murrayfield, but that the match will have more significance for the hosts than their English visitors.
However, Andrew admitted that the Calcutta Cup matches are notoriously difficult to predict, despite England's recent run of form which sees them undefeated at Murrayfield since 2004.
"England v Scotland games at Murrayfield, you just don't know," said Andrew. "That's the beauty of it.
"It's a young England side, with a lot of good players. How well will they gel? How will they cope with Murrayfield? If you've never been to Murrayfield before it's a special place when England are in town.
"As always, it's going to another full-blooded game like it has for the last 100 years."
Andrew also said that the advantage is always with the Scots at home and interim England head coach Stuart Lancaster will have to prepare his players for the experience of walking out on to the Murrayfield pitch.
"It's a daunting place, and it'll be an eye-opener for some of our guys and how they respond to it will mark them out to whether they can handle international rugby," said Andrew.
"Scotland are on a good run - it's a big game for Scotland - probably more important for Scotland than England.
"Maybe that'll get to some of the Scotland players, because we're on a new journey.
"We've started something new - England can afford to lose if they play well, but I'm not sure Scotland can affford to lose in the opening game at home - that would put a big dent in their plans.
"At the end of the day, it doesn't matter what we say talking about it - what matters is what thep layers do when the whistle goes at five o'clock."