Scott Johnson should leave Ospreys 'straight away' - Jonathan Davies
Last updated on .From the section Rugby Union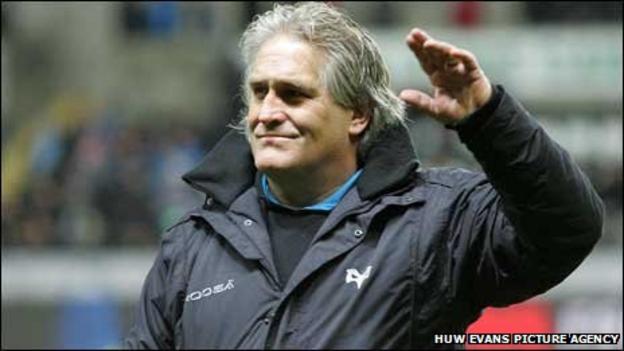 Jonathan Davies has urged Ospreys to let director of coaching Scott Johnson leave "straight away" as the "under-achieving" Pro12 side has "stagnated."
Davies thinks Ospreys chiefs should let head coach Sean Holley and forwards coach Jonathan Humphreys take charge.
"Now would be a natural time for him to leave straight away," said Davies.
"I have been disappointed with the pattern of play the Ospreys have been playing.
"They are second in the league and it's a great position to be but they have under-achieved. Collectively and individually those players have stagnated since his first season.
"He has has made the decision to leave the Ospreys.
"The Ospreys need to make a decision and for me that would be leave Scott Johnson, go tomorrow and leave the youngsters take over until the end of the season.
"He can either go with Scotland now or have a rest and put the two coaches Sean Holley and Jonathan Humphreys in position and give them their head."
Johnson, a former Wales skills and assistant coach, left the role of USA Eagles national coach to join the Ospreys for the start of the 2009-10 season.
BBC Sport understands the three-time Celtic League winners, who have won just one of their last five games, could make a new appointment from within and promote current coaches Holley and former Wales captain Humphreys.
Holley, the only member of the backroom staff to be at the Ospreys since the region was formed in 2003, was Ospreys' temporary supremo during the 2008-09 season between the coaching tenures of Lyn Jones and Johnson.
Holley remained head coach under Johnson when the Australian arrived at The Liberty Stadium and Davies wants to see if Holley and Humphreys can make it on their own.
"The Ospreys are always talking about promoting from within so this is an opportunity," the former Wales captain told BBC Wales' Scrum V show.
"This is the time for them to move on as I'm slightly disappointed with their pattern of play.
"Their scrum is very, very strong but they over-emphasise on it.
"In the Pro12 that is good enough but in Europe when the likes of Saracens come down and match them in the scrum, there doesn't seem to be a plan B."
Davies is "not sure" of Johnson's Ospreys "legacy" and feels an immediate change of supremo would be more beneficial than continuing with Johnson until the summer.
"Leave them two in charge until the end of the season so they can put their style on it," he added.
"Then by the end of the season they will know for the first time, without interference from above, if these two youngsters can do it."